The UK's Department for Work and Pensions (DWP) is responsible for pensions, benefits, child maintenance and incentivising employment.
The DWP is one of the largest UK public sector procurement buyers, having spent over £10 billion with private suppliers from 2016 - 2020.
Understanding the procurement profile of this major buyer is pivotal for any supplier - new or existing.
Using Tussell's aggregated data platform, this blog provides the big picture of the DWP's procurement landscape over the past few years. Skip ahead to read about:
Find our other Buyer Profiles here:

Tussell's database shows that from 2016 - 2019,* the DWP spent approximately £8 billion across 1.8 million transactions with suppliers.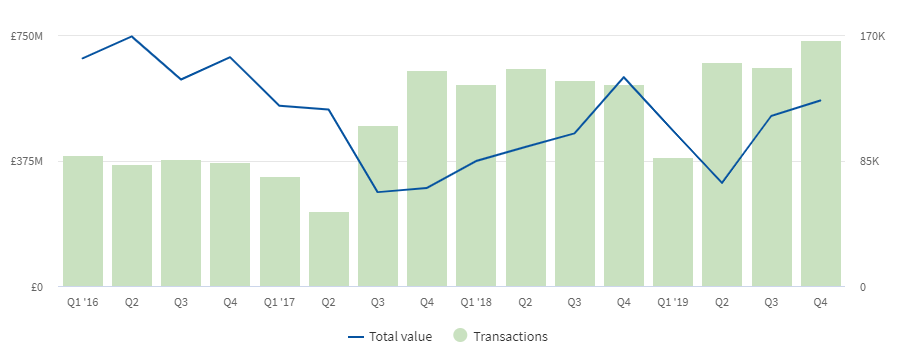 Out of Tussell's listed buyers, this made the DWP the 11th largest public sector buyer by total invoice value with private suppliers. This was one place below Transport for London, and one above London Bus Services.
From 2016 - 2020, the DWP's largest suppliers by spend were:
| | | | | |
| --- | --- | --- | --- | --- |
| Supplier | Sector | Total Invoice Value | Largest Listed Contract | Contract Value / Award Date |
| Telereal Trillium | Property / Estates | £888m | - | - |
| Atos IT Services | IT | £791m | | £205m / July 2020 |
| Maximus UK | Employment Services | £615m | | £5.41m / November 2016 |
| Entserv | Cyber Security | £598m | | £49m / February 2016 |
| Capita Business Services | Business Consulting | £464m | The Provision of Resource Augmentation Services for UC Administration | £34.5m / April 2020 |
The DWP has also spent over £530 million with the BBC from 2016 - 2020.
* The no. of transactions yet logged for 2020 is incomplete.

From 2016 - 2020, the DWP awarded - at least - 902 contracts across 481 suppliers, valued at £4.29 billion.

Over this period, its largest contracts included:
In April 2021, the DWP awarded the £2.5 billion Restart Scheme contract - to "give Universal Credit claimants who have been out of work for between 12 to 18 months enhanced support to find jobs" - across 8 suppliers (Seetec, Reed in Partnership, Ingeus, G4S, Serco, Fedcap, Maximus UK, and Jobs 22).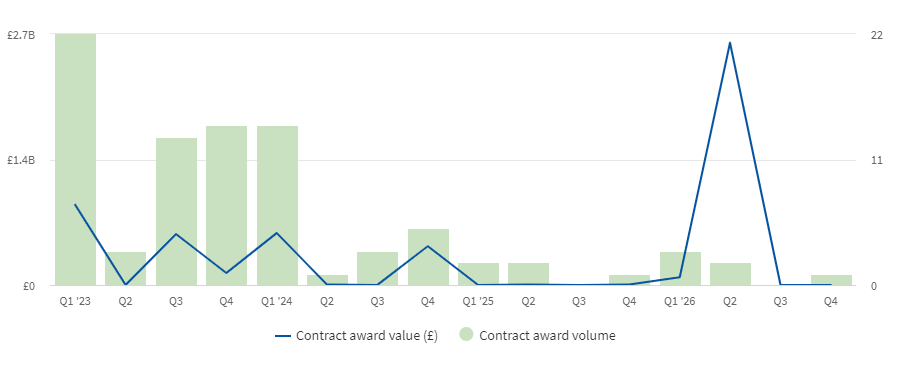 Tussell's platform identified 86 contracts worth £5.2 billion that are due to expire from 2023 - 2026; over half - 52 - are due to end in 2023 alone.
Some notable expiring contracts - not awarded as part of frameworks - in this period include:

From 2016 - 2020, the DWP's largest suppliers - by total contract award value - were:

Below is a breakdown of the DWP's largest contracts within IT and Consultancy from 2016 - 2020.
IT and Software (CPV: 48000000, 72000000, 42960000)

The DWP spent just over £1 billion on IT and software-related contracts, spanning 437 awards and 221 suppliers.
The largest suppliers - by total contract award value - were Softcat PLC (£126m), Fujitsu Services (£124m) and Tata Consultancy Services (£114m).
The largest contracts in this period included:
Marketing, Recruitment, Consultancy (CPV: 79000000)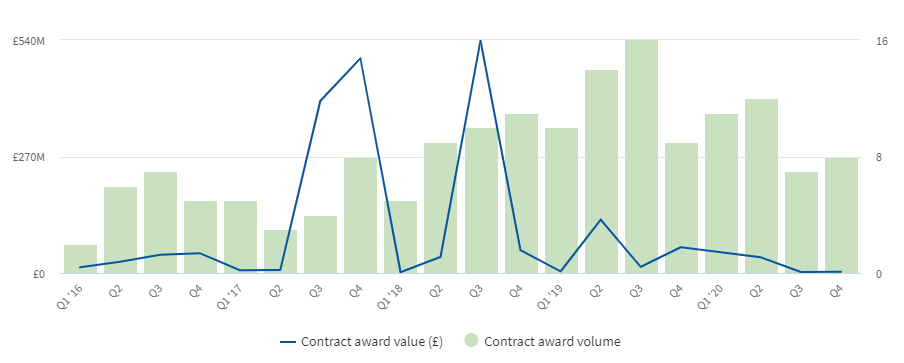 The DWP spent just under £2 billion on 'business services' ("law, marketing, consulting, recruitment, printing and security"), spanning 171 awards and 115 suppliers.
The largest suppliers were Alexander Mann Solutions (£538m), G4S Secure Solutions (£452m) and Corporate Travel Management (£120m).
The largest contracts in this period included:

Of the £4.3 billion worth of contracts awarded from 2016 - 2020, £1.53 billion was awarded as call-offs on a framework.
Using Tussell's frameworks finder, the DWP is currently a call-off buyer on roughly 18 frameworks, the largest of which include: Public Sector Resourcing Award (RM3749); Facilities Management Marketplace (RM3830) and Supply of Energy and Ancillary Services (RM6011).
From 2016 - 2020 the DWP has operated 20 frameworks with a maximum potential value of £12.2 billion. Some of the DWP's ongoing frameworks include:
'CAEHRS'
The largest - and most recent - DWP framework is the 'Commercial Agreement for the Provision of Employment and Health Related Services' (CAEHRS). The framework aims to procure products and services to help "people who are unemployed, disabled, have a health condition or barrier to work to select, train for, obtain and retain employment".
It is valued at roughly £7.5 billion and includes 28 suppliers (such as Adecco, Jobs 22, the Salvation Army Trustee Company and Serco). CAEHRS is scheduled to conclude in October 2025.
DWP Estates Contractor Framework
The DWP's estates framework caters for the Department's "over 700 properties across England, Scotland and Wales".
It is valued at approximately £375 million, encompassing 17 suppliers (including Willmott Dixon and Kier Construction). The framework is to terminate in March 2022.
Technology Recruitment Framework
This small framework - valued at £400k - aims to provide the DWP with its "permanent and fixed term technology recruitment requirements". It contains 5 suppliers, three of which are SMEs, and is scheduled to end in October 2022.

The DWP regularly awards contracts to companies identified as SME's in Tussell's database.
By sector, some notable suppliers and contracts have included:
If you're an SME, find out how to do more business with the public sector in Tussell's SME guide.
*
This profile only scratches the surface of the DWP's procurement landscape.
Understanding the DWP's spending trends, top suppliers, favourite frameworks and upcoming contract opportunities are vital for any company - large and small - hoping to do business with them.
All the data in this blog was obtained through Tussell's public sector spending aggregator, Tussell Insight. To dig deeper into the DWP's spend - or any government department's - book a demo with our team.
Find our other Buyer Profiles here:
Receive free Tussell insights
Get the latest market updates sent straight to your mailbox