You can't rely on open data for competitor intelligence
We've taken supplier intelligence to the next level
Tussell has consolidated related supplier entities into unique Supplier Groups, meaning you can see every company's entire book of business in the public sector, all in one view.
36,300+
suppliers consolidated
£640bn
worth of enhanced market coverage
Tussell Supplier Groups enables you to
See what you're missing with open data
Download our example side-by-side analysis of G4S, with and without Tussell Supplier Groups.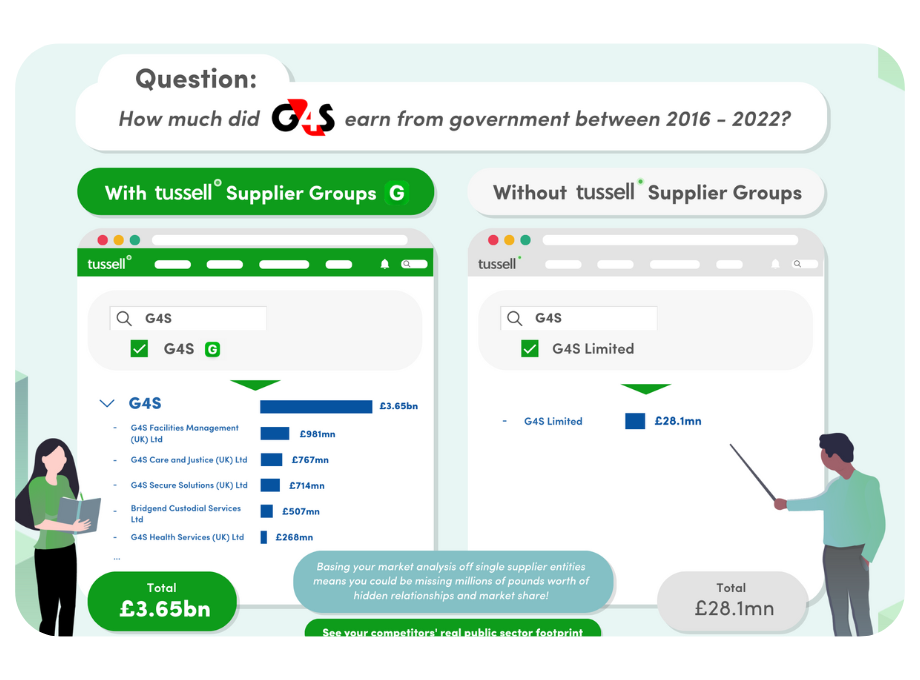 Leading suppliers trust Tussell for competitor intelligence












Access supplier intelligence you can't get anywhere else
Fill in the form below to book in a demo of the Tussell platform, and we'll show you first-hand what Tussell can reveal about your partners' & competitors' business in the public sector.
Tussell: the all-in-one market intelligence platform
Tussell aggregates trillions of pounds worth of public procurement data into a single place, providing you with an unparalleled vantage point to find new business, trends and insights.
Get new insights into your public sector market
Get alerted whenever relevant opportunities go live
Build a pipeline of upcoming opportunities
See which frameworks your key accounts & competitors are using
Access the contact details of key decision-makers