'Global Britain' is the Government's vision for the UK's post-Brexit identity: one which, in particular, will seek to further integrate itself into global markets and "attract inward investment to support jobs and growth".1
For those looking to sell to the UK government from abroad, this is a resounding vote of confidence; for domestic suppliers, the prospect of greater overseas competition arises.
Tussell's report on Overseas Suppliers in the UK Public Sector demonstrated that non-UK suppliers' presence in public procurement has remained strong - if not grown - over the past few years. In light of its findings and the realisation of 'Global Britain', where might opportunities for non-UK companies looking to sell to the government lie?
Using Tussell's aggregated data platform, this blog runs through:
Understanding these opportunities and success stories is pivotal not only for non-UK companies hoping to enter the UK public sector, but also for domestic suppliers to understand where competition lies.
Read Tussell's full report on how the UK public sector spends with overseas suppliers!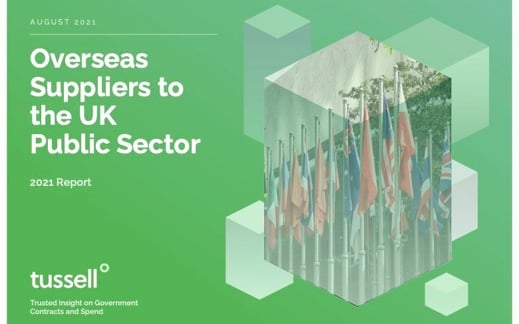 Where have Overseas companies found success in the UK public sector?
Overseas companies have consistently managed to secure contracts - large and small - across the public sector. In 2020 alone, the public sector spent £18 billion with overseas suppliers, representing 13% of total spend. Though the proportion of spend on overseas suppliers has gradually declined since 2017 (at 15%), total spend volume has increased by 27% (from £14bn).
Though overseas success can be seen across the public landscape, three specific sectors have proved consistently fruitful: IT, Consulting and Construction. Overseas companies have managed to win valuable and influential public sector contracts in these areas, both at the central and local levels.
From 2017 - 2020, overseas suppliers received nearly 30% of IT spend, nearly 20% of consulting spend, and 11% of construction spend.
Below, we've broken down a sector-by-sector analysis of overseas companies' presence in these sectors, including:
The largest overseas suppliers by spend

The largest overseas contracts by value
A company is designated as 'overseas' if it or its parent company is registered outside the UK.
IT 💻
Largest Overseas Suppliers by Spend (2016 - 2020)
| | | |
| --- | --- | --- |
| Parent / Supplier | Country | Spend Value |
| ATOS | France | £2.9bn |
| Capgemini | France | £2.5bn |
| DXC Technology | United States | £1.1bn |
| CGI Group | Canada | £928m |
| Insight Direct (UK) | United States | £912m |
Largest Overseas Contracts by Value (2016 - 2021) *
| | | | |
| --- | --- | --- | --- |
| Contract Title | Contracting Authority | Parent / Supplier (Country) | Award Value (per Supplier) / Award Year |
| | London Borough of Harrow | IBM (United States) | £1.2bn / 2016 |
| | Met Office | Microsoft (United States) | £1.0bn / 2021 |
| | Student Loans Company | ATOS (France) | £216m / 2020 |
| | Department for Work & Pensions | ATOS (France) | £205m /2020 |
| Post Office front office counter pensions and benefits payments | Post Office | Entserv UK (United States) | £200m |
* 2021 YTD (28th July)
Consulting 💼
Largest Overseas Suppliers by Spend (2016 - 2020)
| | | |
| --- | --- | --- |
| Parent / Supplier | Country | Spend Value |
| KPMG | Netherlands * | £763m |
| Accenture PLC | Ireland | £738m |
| DAI Global (UK) | United States | £361m |
| McKinsey & Company | United States | £237m |
| The Boston Consulting Group (UK) | United States | £68m |
* Based on the location of main headquarters
Largest Overseas Contracts by Value (2016 - 2021) *
* 'Consulting' defined via SIC codes 69203, 70229, 69201 and manual adjustments.
** Amey was acquired by its Spanish parent, Ferrovial, in 2003.
Construction 🏗️
Largest Overseas Suppliers by Spend (2016 - 2020)
| | | |
| --- | --- | --- |
| Parent / Supplier | Country | Spend Value |
| Amey | Spain | £9.9bn |
| Jacobs | United States | £2.1bn |
| Skanska | Sweden | £2.0bn |
| Colas Rail | France | £1.2bn |
| Engie | France | £1.1bn |
Largest Overseas Contracts by Value (2016 - 2021)
| | | | |
| --- | --- | --- | --- |
| Contract Title | Contracting Authority | Parent / Supplier (Country) | Award Value Per Supplier / Award Year |
| | Peabody Trust | Lendlease Europe Holdings (Australia) | £8.0bn / 2019 |
| | Welsh Government | Keolis Amey Wales (Spain) | £5.0bn / 2018 |
| | Hampshire County Council | Skanska (Sweden) | £1.6bn / 2017 |
| Welsh Education Partnership - Strategic Partnering Delivery Model | Welsh Government | Meridiam (France) | £1.5bn / 2020 |
| | Network Rail Infrastructure | BAM Nuttall (Netherlands) | £500m / 2017 |
*
The quantity - both in number and value - of contracts awarded to overseas suppliers across these three sectors is testament to both central and local government's willingness to look abroad to provide vital public sector services and projects.
The question then becomes whether this willingness is to be sustained into the future.
Future Opportunities
There is little sign of this relationship declining: business with overseas suppliers has only increased in recent years across these sectors. From 2017 - 2020, total overseas spend by sector increased from £13.4bn to £16.1bn in Construction, £6.8bn to £8.5bn in IT, and £2.1bn to £2.6bn in Consulting.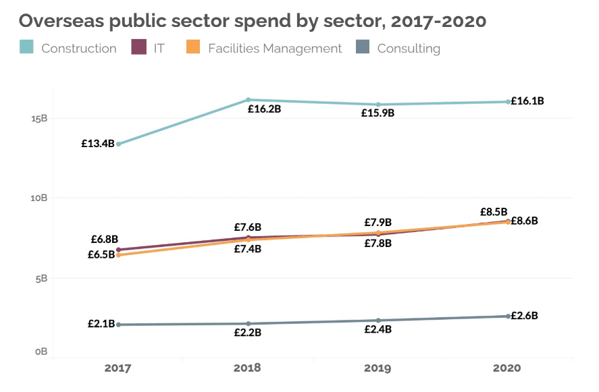 (Graph obtained from Tussell's report on Overseas Suppliers)
Despite Brexit, little will likely change vis-a-vis procurement access for overseas bidders in the foreseeable future. Being a member of the World Trade Organisation's Government Procurement Agreement (GPA) means other GPA party nations will continue to be able to bid for certain procurement opportunities in the UK,2 while under the UK-EU Trade and Cooperation Agreement EU bidders will also continue to have the right to bid on UK procurement tenders.
Though withdrawing from EU procurement regulations will undoubtedly let the government shift towards the domestic market - such as permitting local authorities to reserve smaller contracts for domestic suppliers under PPN 11/20 - the procurement playing field remains very much open to overseas players.
After all, the government has clearly signalled receptivity to seeing more overseas involvement in the UK public sector. The recently established Office of Investment is but one example, seeking to encourage overseas investment in "significant" areas.3
Where might these "significant" areas for overseas suppliers lie?
Clean Technologies & NetZero
In 2021 the government announced one of the world's most ambitious climate change targets, aiming to reduce the UK's emissions by 78% by 2035.4
Central and local authorities will need all the assistance they can get to achieve this goal: turning to the services and skills of overseas suppliers will undoubtedly be a part of this.
Data from Tussell clearly demonstrates the growing urgency from public buyers to go greener. Towards the end of 2020, the public sector had awarded £198 million in Net Zero related contracts, representing a 148% increase in value from 2015. Over this period, local government buyers were actually the biggest Net Zero spenders, representing over 50% of the total market value.
Both the quantity and value of Net Zero-related contracts are only set to increase as the 2035 target draws nearer. Ahead of the expected publication of the government's Net Zero Strategy paper, the government has made clear its goal of ensuring all sectors of the UK economy orient towards decarbonisation. Overseas suppliers can play an important role in ensuring this is done.
Infrastructure
One such sector is infrastructure.
In November 2020 the government unveiled its National Infrastructure Strategy, with its aim to boost connectivity and major infrastructure outside the London and South-East area; recently in September 2021, the government further detailed how "£650 billion of private and public investment will be implemented in infrastructure projects across the country over the next decade".5 The government has made evidently clear its intentions of drastically up-scaling major infrastructure nationwide.
As the analysis above makes clear, the government is not shy about looking overseas to help fulfil such infrastructure projects, both large and small. If the government is to 'level up' infrastructure nationwide, overseas suppliers are likely to be increasingly turned to.
Tussell's data shows that transport-related infrastructure awards alone - after experiencing a dip in 2019 - are rising year-on-year; overseas suppliers can seize on the government's mounting determination to boost connectivity.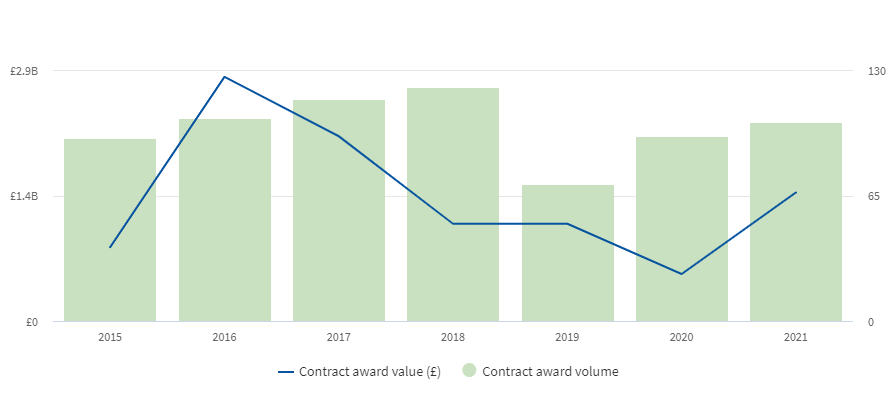 (Note: Contract award value & volume is incomplete for 2021)
As the National Infrastructure Strategy, the Transforming Infrastructure Performance Roadmap and the 2020 Construction Playbook all make clear, overseas infrastructure companies must be able to demonstrate their commitment to the government's aforementioned Net Zero targets, and its commitment to promoting social value through infrastructure.
Overseas companies that fail to remain informed by the government's shift away from a value-for-money-centric approach to procurement - both within and outside infrastructure specifically - will be unlikely to be received warmly by public sector buyers going forward.
Telecoms
Such considerations also play into the telecoms sector.
Demand for telecoms infrastructure and services is only set to increase over the coming decade as data usage rises. Data from Tussell clearly demonstrates a year-on-year increase in the publication of telecoms related contract awards, with the total award value of telecoms contracts in 2021 already surpassing prior year totals.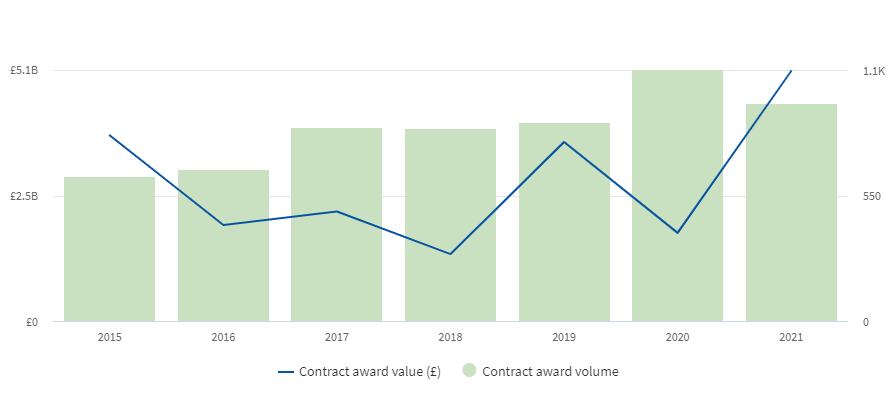 (Note: Contract award value & volume is incomplete for 2021)
Though controversy has arisen concerning an over-dependence on non-UK companies in the country's digital infrastructure - notably, Chinese firm's Huawei in the UK's 5G network - the growing demand for data and speed will have to be met from somewhere: overseas suppliers could be up to the task.
Defence
The same might not be said for defence.
A recent report by the Common's Defence Committee argued that though foreign inward investment to the defence supply chain had "brought some benefits", the Ministry of Defence's "open and country-agnostic approach has meant that the defence supply chain has been open to potentially hostile foreign involvement".
The report further commended the National Security and Investment Bill's aim of increasing oversight over foreign investment in the UK's defence sector. This will be done through the Department for Business, Energy and Industrial Strategy's new Investment Security Unit, which will "assess and respond to national security risks arising from foreign direct investment".6
Though overseas suppliers will undoubtedly retain great access to the UK's defence sector, new entries are likely to face considerably more scrutiny and oversight, potentially giving an advantage to domestic suppliers.
Conclusion
Tussell's flagship report on overseas suppliers has made clear the significant - and growing - relationship the UK public sector has with foreign companies.
Despite calls for authorities to 'Buy British', the government appears determined to steer clear of the UK turning inwards after Brexit. The public sector will remain looking outwards for investment opportunities, with several sectors looking promising for overseas suppliers hoping to make an entry into the UK public sector.
Whatever the future may hold, all overseas and domestic suppliers - current and prospective - can turn to the Tussell platform to receive notice of all new public sector tenders, and scan ahead for soon-to-expire contracts.
~
1 HM Government, 'Global Britain in a Competitive Age: The Integrated Review of Security, Defence, Development and Foreign Policy', p. 51.
2 HM Government, 'Bidding for overseas government procurement opportunities'
3 HM Government, 'Office for Investment'
4 HM Government, 'UK enshrines new target in law to slash emissions by 78% by 2035'
5 HM Government, 'Plans for Jobs in action: hundreds of thousands of jobs supported in record £650 billion infrastructure investment'
6 HM Government, 'New and improved National Security and Investment Act set to be up and running'
Receive free Tussell insights
Get the latest market updates sent straight to your mailbox