This blog provides an overview of net zero contracting in the UK and offers guidance on how to position your business for future success. It also includes a downloadable factsheet on net zero contracts awarded by the UK public sector.
An introduction to net zero in the UK
In July 2019 the government passed legislation to ensure the UK reaches net zero carbon emissions by 2050 - releasing equal or less greenhouse gas into the environment than it removes.
From energy companies developing clean sources of power, to engineering firms redesigning the way we interact with our surroundings, private sector partners will be essential in helping deliver the innovations needed to reduce the UK's carbon footprint.
In this short blog, we outline what the UK public sector has bought over the past five years in order to improve its environmental impact, and offer some tips for firms looking to support the government's push for net zero.


What has the public sector already bought to support its net zero commitments?
Since 2015, the wider public sector has awarded over £900m in contracts relating to net zero.
In 2019, the Committee for Climate Change estimated that the total costs of achieving net zero would be £50bn per year, while the Treasury and the Department for Business, Energy and Industrial Strategy (BEIS) put the figure at £70bn per year, or over £1 trillion by 2050.
These contracts come from a variety of sectors and themes, including renewable energy projects, sustainable transport initiatives, citizen assemblies and the development of energy efficient homes.
The most significant investment has been into renewable technologies and research & consultancy projects, such as behaviour change studies and energy acceleration programmes, while contracts for sustainable buildings has remained fairly flat since 2016.
How fast is this market growing?
Well, in 2020 so far, the public sector has awarded £198m in contracts for net zero - a 148% increase in value from 2015. Local government has actually been the biggest spender on environmental improvements over this period - representing over 50% of the total market value.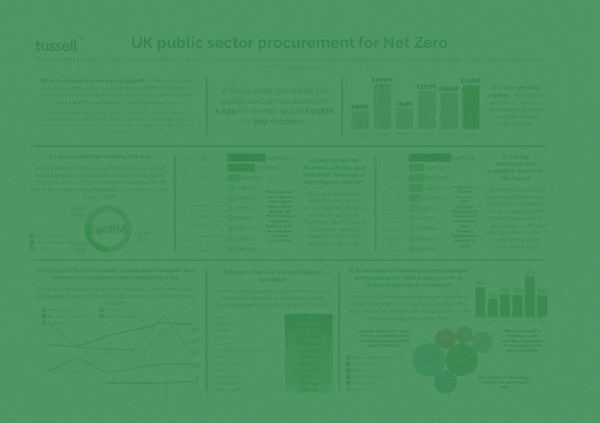 Download the factsheet at the bottom of this blog to learn more about who the major purchasers have been so far, what they have bought, and from whom.
How can your business prepare for future net zero contract opportunities?
Although 30 years is a significant time horizon to deliver on the UK's net zero ambitions, tenders focused on lowering and removing emissions are already being published:
The largest opportunity lies in developing a compelling service offering and marketing capability around net zero, as well as building the right relationships, before these contracts become mainstream.
Below are our top tips for becoming a market leader in net zero.


Understand differences in local implementation
Although legislation has been passed at a national level, it's critical to understand how public sector organisations (i.e. your target accounts) are implementing the legislation through their own, local commitments.
For example, Birmingham City Council has ambitions to achieve net zero by 2030, some 20 years ahead of the national target. To support this, they have a dedicated webpage that talks about how they will address the 'climate emergency', including a specifically developed 'Route to Zero task force' and changes to their Council Plan.
With this in mind, it's not surprising that they've already put in place substantial contracts to tackle their emissions, such as this contract for a city wide EV Network Development Partner, worth £3m.
Keeping abreast of how the national effort filters through to individual sectors and departments will allow you to tailor your service offering, marketing and business development effort, accordingly.
By talking to the specific needs and objectives of each individual authority, you are much more likely to influence them effectively ahead of a tender, and therefore, produce a compelling bid in response to any procurement processes.


Do your research on net zero
As part of your go to market strategy, it's crucial to collect all the relevant data.

For example, it's perhaps more important to understand the public sector organisations that have NOT made much progress towards their net zero goals, rather than those that are miles out in front.
Using a market intelligence platform can help you identify what types of contracts are being awarded, to which suppliers, and by whom.
By investigating the nature of these deals, you will start to understand more clearly how your target accounts are likely to procure net zero-related services, and it will give you context to begin meaningful conversations with the people responsible for making the decisions.
We'd recommend the following:
Advanced keyword searching
Competitor monitoring and alerts for tenders and contracts to keep your finger on the pulse with developments in net zero.
Act now on your carbon reduction plan
The government's position is clear. It wants to reduce and remove emissions and has the set the budget aside to do so - but time is of the essence.
The most forward-thinking organisations may already have offerings, marketing and relationships in place, but there's still plenty to play for.
Acting now will help position your company to provide the goods and services the government needs to meet its ambitious environmental agenda Our factsheet has all you need, and more, to better understand what the UK government are doing to ensure we reach net zero carbon emissions by 2050.
To Conclude
Our factsheet has all you need, and more, to better understand what the UK government are doing to ensure we reach net zero carbon emissions by 2050..
Send me the full report
Get the PDF report emailed straight to your inbox