New technologies, policies and practices are rapidly changing how public authorities operate, driving growth in new markets.
Our data shows that some smaller businesses are proving pivotal in bringing new products and services to the public sector to help meet this demand.
Using our report - the Tussell Guide on SMEs in Emerging Public Sector Markets - we've spotlighted five up-and-coming SMEs across emerging markets in the public sector, and dug into their recent successes using Tussell's market intelligence platform.
If you work in any of these emerging markets - SME or not - it's well worth keeping an eye on these rising stars, and to learn how and why they've managed to succeed.
Skip ahead to read about our SME highlights in:
♻️ Net Zero Services
☁️ Cloud Services
💻 Digital Transformation
🗂️ Business Process Outsourcing (BPO)
🤖 Artificial Intelligence (AI)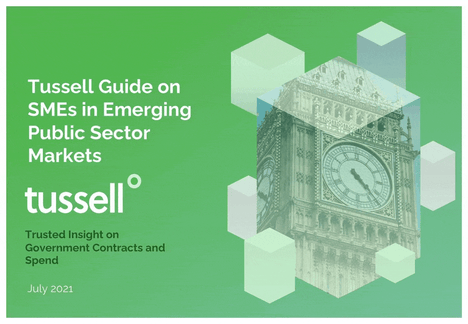 To dive deeper into up-and-coming SMEs in burgeoning public sector markets, download the full report!
New to public sector procurement?
Why not check out our free SME Guide to Doing Business with the Public Sector?
On the back of COP26 and the government's 2050 carbon-neutral target, Net Zero related services are set to explode in demand.
The 2050 target requires a seismic shift in how the public sector operates, be it in better quantifying its own carbon emissions, implementing measures to actively reduce it, and procuring in more environmentally conscious ways. This, in part, will mean leveraging more of the private sector's expertise.
Element Energy is one such group of experts. Element Energy are a specialist energy consultancy with the mission of achieving carbon-neutrality as soon as possible. Their expertise ranges across various low carbon energy sectors - from built environments to low carbon transport - and have worked with numerous public sector authorities.
Since 2018, Element Energy have won a number of important contractual work across the public sector. Some notable contracts include:
☁️ Cloud Services: DataVita
More and more public sector authorities are migrating their data to the cloud, and business is booming. The total annual value of cloud service contract awards leaped from £493 million in FY19/20 to over £1 billion in FY 20/21!
A number of cloud service SMEs are benefiting from this surge in demand. One such SME is DataVita.
DataVita are a Scottish cloud and connectivity provider, offering multi-cloud services to the private and public sectors. DataVita's selling point for the latter is boasting "Scotland's only purpose-built, tier III certified data centre, designed with security and resilience in mind, making it perfect for the public sector".
DataVita's emphasis on security has enabled this SME to secure a number of cloud-related contracts over the past couple years, namely a £8.45 million Cloud Migration and Hosting Services contract for South Lanarkshire Council. Other wins included:
💻 Digital Transformation: ScrumConnect
The migration to cloud services is part of a broader trend of public authorities increasingly turning to digital solutions to improve how they operate.
This migration is substantive: the public sector market for digital transformation more than doubled between FY19/20 and FY20/21!
One SME meeting the demand is ScrumConnect.
Scrumconnect collaborates with the public and private sectors to design and build user-centred digital services. They've worked with a great number of public sector authorities, including the Home Office, Department for Education, Ministry of Justice and - in particular - the Department for Work & Pensions, who've awarded Scrumconnect 5 contracts since 2018.
Some of Scrumconnect's standout contract awards include:
🗂️ Business Process Outsourcing: LiquidLogic
As the daily operations and needs of public authorities become ever more complex, it's inevitable that some processes will be outsourced to save on time and resources. Indeed, the public sector BPO has grown year on year, with the total annual value of BPO contracts rising from £3.7 billion in FY18/19 to £6.1 billion in FY20/21.
One SME riding this wave is LiquidLogic. LiquidLogic - owned by System C - provides case management and record-keeping IT systems for children's and adults' social care, with 51% of local authorities in England having adopted a Liquidlogic solution. On the back of this success, LiquidLogic claim to be the "UK's fastest-growing supplier of software for local authority social care and education management services".
LiquidLogic's biggest contract to supply such IT systems was with Solihull Metropolitan Borough Council - valued at £6 million - to "implement a joined-up social care information system". Other major BPO related contracts have included:
🤖 Artificial Intelligence: Faculty
Artificial intelligence is slowly but surely changing the way public authorities operate. AI can help authorities tackle complex sets of data, in turn improving the quality and speed of decision making. SMEs are undoubtedly part of this quiet revolution.
One such SME is Faculty. Faculty harness AI to empower private and public organisations, helping to turn "data into deeper insights, better strategies and smarter decisions".
Faculty have lent a hand in a great diversity of public projects, including being an 'AI Lab Strategic Partner' for NHSX, conducting a review into the adoption of AI across government for the Department for Culture, Media & Sport, and completing a similar investigation for the Serious Fraud Office.
Some of Faculty's other success stories have included:
*
These 5 SMEs are making huge strides in relatively new - and exciting - markets in the public sector.
Our top picks are testament to how no matter the size of your company, you can still bring substantive and innovative change to the public sector. If you're an SME and want to do more business with the public sector, read our interactive SME guide.
To read about our other standout SMEs, download the full Tussell Guide on SMEs in Emerging Public Sector Markets.