Winning government work often means having to challenge an incumbent supplier when their contract comes up for renewal with your target contracting authority.
Of course, this is easier said than done. Incumbent suppliers can have an in-built advantage when bidding on tender renewals: they're more intimately familiar with the contracting authorities' needs, their products or services may have become well embedded in how the authority operates, and they've likely built a steady working relationship together.
This how-to guide runs through our top tips for challenging incumbents for public sector work, and how hard data is the best tool in your arsenal.
1️⃣
Figure out the incumbent's embeddedness
First and foremost, it's critical to establish how embedded the incumbent is with the contracting authority. This is important as it allows you to gauge your chances of winning the renewal against them, and whether your time and resources could be more effectively used for alternative bids.
Measuring their embeddedness can be done by figuring out how much they've earned from the contracting authority, how long they've worked with them, and understanding the kinds of products or services they provide.
This kind of analysis can be done through freely available avenues like Find a Tender, the government's platform for housing contract information and opportunities.
If, say, you knew the incumbent for a soon-to-renew Department of Health and Social Care contract was DAC Beachcroft LLP, you could enter "Department of Health" and "DAC Beachcroft" into Find a Tender to see what prior work they've done together, and over what period of time.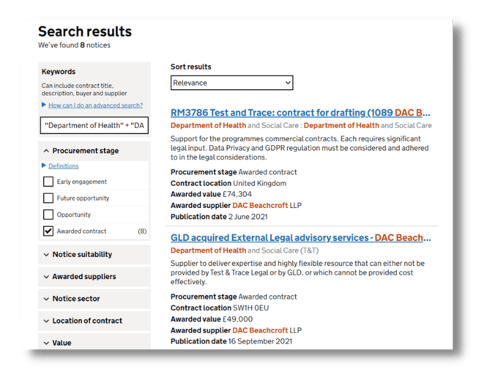 The results returned from these publicly available platforms, however, often require a lot of manual processing for you to get a holistic understanding of the supplier's embeddedness.
By using Tussell, on the other hand, you're able to access this data in a cleansed, user-friendly way, and more easily get the bigger picture.
By selecting a few criteria, we can quickly see that DAC Beachcroft LLP have won 9 contract awards from the DHSC over just the past 24 months, at a total value of £3.5 million. Having recently received their largest ever contract with the DHSC in December 2021, it's clear that DAC Beachcroft is a well-embedded and trusted supplier of legal services to the DHSC.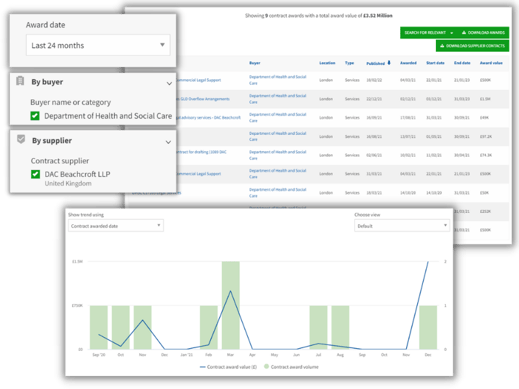 For more detail on understanding competitor embeddedness, read our blog on advanced bid / no-bid techniques.
2️⃣
Build relationships well before the contract comes up for renewal
In order to displace an incumbent, it is paramount that you develop a relationship with the contracting authority well in advance of the contract release date.
This will allow you to have a better understanding of their needs, and follow the development of the current contract. This, in turn, will enable you to write a more compelling, personalised bid once the contract comes up for renewal.
This is a long-term process: it's no good reaching out a week before the contract comes to an end. You need to anticipate the contract's end-date well in advance. With Tussell, you can easily see the end dates of contracts, and start building your relationship with the contracting authority ahead of time.
With this baseline, it's time to start getting a more qualitative understanding of the contracting authority. As we explained in one of our previous blogs (which you can access here), you can start to pick out an authority's main priorities, concerns and issues by sifting through their published policy documents, the wording of prior contract awards, meeting minutes, and long-term strategy reports.
Moving forward with this information, you can use our Key Decision-Maker data to contact the right people to start building your relationship with the contracting authority.
Again, this is a long-term process, but it's entirely worth it: with a solid relationship already established, you'll more readily be accepted as a viable alternative to the incumbent in the eyes of the contracting authority.
3️⃣
Tailoring your USPs directly to the account
Despite the fact that different contracting authorities fall into general categories - like Local Government councils or Central Government departments - it's critical to remember that each and every account is different, and requires a bespoke plan and individual approach from potential suppliers like you.
Suppliers that opt for a "one-size-fits-all" plan are usually unsuccessful when bidding on tenders, because they fail to show how their strengths and offerings align with the contracting authorities' specific problems and needs.
This is another reason why building a strong relationship with the contracting authority is so important: you'll be in a much stronger position to understand their needs, and where your offering fits in. This, in turn, will help you stand out as a viable alternative to the incumbent when it comes to the re-tendering process.
For hear more about tailoring your USPs to different accounts, listen to our podcast with Healthbid's Tom Sheppard.
4️⃣
Price your bids competitively
Getting in the monetary ballpark of the contracting authority is fundamental. By pricing your bid more competitively than the incumbent's current rate, you'll be in a significantly stronger position to challenge them for the renewal.
With the Tussell platform, you can see exactly how much money the contracting authority paid the current and previous suppliers. Using this information, you can then pitch your bid competitively and inline with the contracting authority's budget.
5️⃣
Alternatives to direct contract bidding
Finally, displacing an incumbent does not necessarily mean that you need to be the one doing the displacing.
Instead, it may be more effective to partner with a larger or previous supplier to challenge an incumbent - especially if you're a smaller supplier looking to challenge a bigger, engrained incumbent.
If a small supplier bids directly against the incumbent for a renewal, they're less likely to secure some form of work than if they'd partnered up with a larger supplier, and fulfil some aspect of the contract as the larger suppliers' sub-contractor. Something is better than nothing when working with the public sector: with a foot in the door, you'll be able to build your profile and build a relationship with the authority.
Identifying potential partners can be tricky. Publicly available platforms - like Find a Tender - can give you a general idea of, say, suppliers who have previously worked with a given contracting authority, but finding these organisations can be a very manual, resource-intensive process.
With Tussell, you can quickly generate a list of suppliers that have worked with a contracting authority, and dig into the individual contracts they worked on.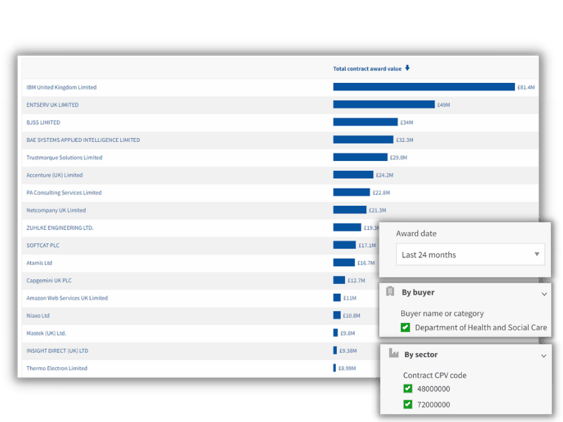 In the above example, we've quickly generated a list of suppliers who've won an IT-related contract from the DHSC in the past 24 months, representing a ready-made list of potential partners to challenge an incumbent.
*
At first displacing an incumbent may sound like a difficult task, but it is very much possible when you have access to the right data and knowledge.
By signing up to Tussell you are giving yourself the best chance at displacing incumbents, by arming yourselves with the decision-ready data you need to understand the incumbent's position and plan your angle of approach.