Although our customers win contracts 4 times faster than the rest of the market, here at Tussell we want to improve on this. We've been talking to our Head of Product, Joe Creedon, to reflect on the updates and upgrades to the Tussell platform in the first half of this year.
So far this year, our updates have been focused on two main areas:
Continue reading to find out more about what we have been getting up to, and how we are enabling you to get the edge over your competitors and increase your business with the public sector.
Phase 1: Finding more opportunities and qualifying them quicker
As promised, we've added 170 new sources of tender data to our platform, providing you with peace of mind that you'll never miss an opportunity. As a result, in total, we now collect tenders from 240 procurement portals, including local government, NHS, education, and housing, as well as other sectors such as fire & rescue, airports and framework providers. This wealth of information allows you to find opportunities and sleep easy knowing that you aren't missing a tender.
In March this year, we created our Opportunity Analyser that provides you with tailored insight, specific to the tender in your sector. Using specific contracts, you can make faster, more informed decisions throughout the bidding process. For example, you can identify:
The buyer's top supplier within the sector and thus identify your likely competitor

Understand the competitiveness of the account by seeing how many suppliers the contracting authority has worked with

Strengthen your bid by taking into account the buyer's priorities by looking at their renewals and new tenders

The complete procurement picture, allowing you to "connect the dots" and create a personalised bid that is more likely to win.
On top of this, we've created "My Hub" for Tussell users so you can quickly and easily action those opportunities. Our users can now personalise their accounts to an even greater level: the save function and saved lists allow users to farm out opportunities and create priority contract lists. Alongside this, you can make quicker decisions by easily sharing contracts with your team via the Tussell platform in just a few clicks and download your lists into a CSV file making collaboration easier than ever.
Phase 2: Getting the most out of spend data
Spend data is at the root of all procurement information as it is a record of the direct payments made between a contracting authority and a supplier: the insights it can provide are fundamental. At Tussell, we have been harnessing our spend data to make it more user-friendly and more powerful so that our users can get the most out of it.
With more than a hundred million lines of invoice data in the Tussell platform, spend data can provide you with unparalleled insight into your public sector market. Spend data allows you to:
See every single relationship

Get a view of the sector easily

Identify market trends

Work out your competitors and how to out-bid them
We have overhauled the spend data tab to give you a new layout design that is automatically focused on the strongest trends. You can now change the spend data chart layout to see it by year, quarter or month- whichever way you need to get the best insight out of the data, making it the most accurate way to size your market yet.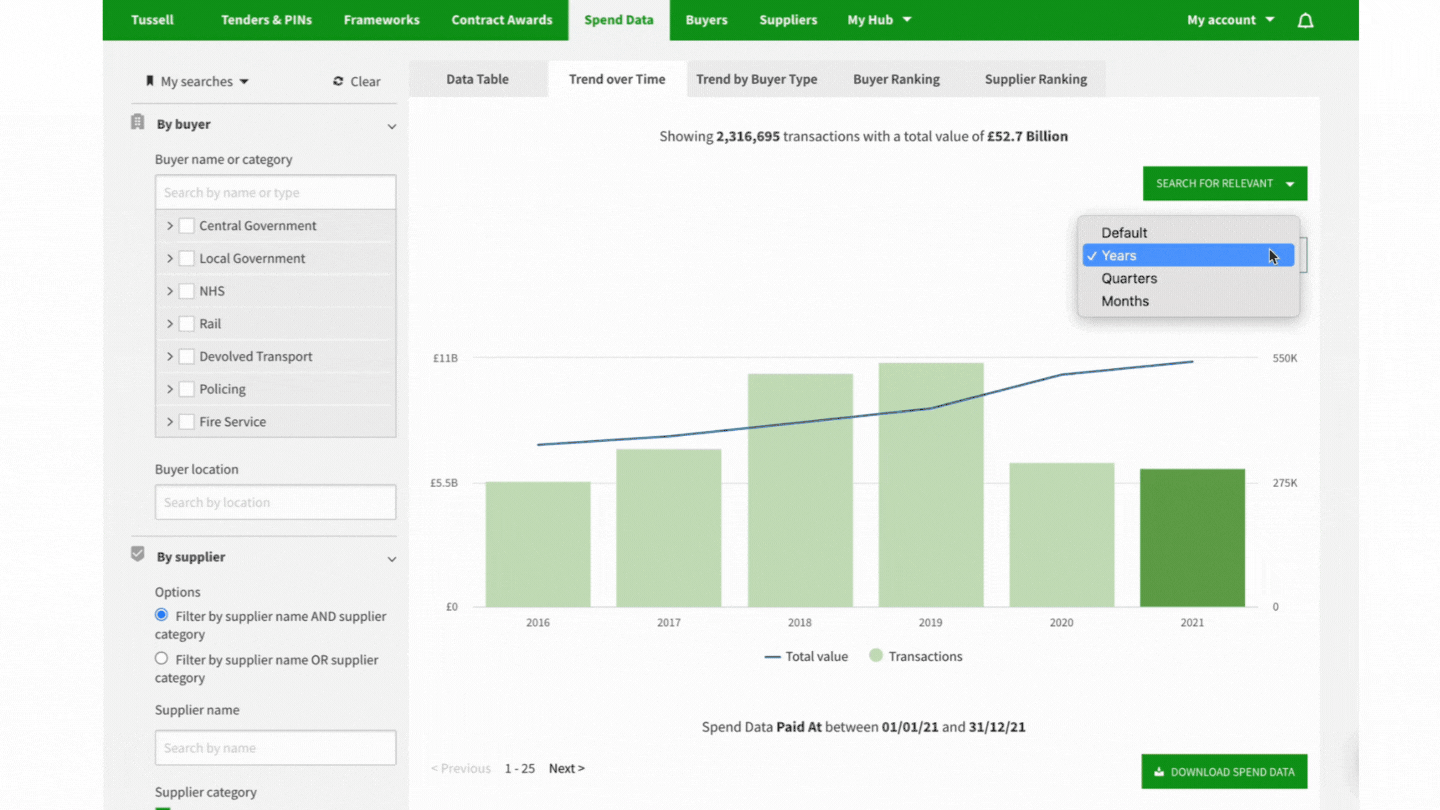 We've created two new filters so you can filter to find spending with suppliers and/or categories, giving you a sector view in one click! Being able to easily filter spend data allows you to directly benchmark yourself against competitors in other sectors instantly. You can also use these filters to keep an eye on your market's top players. We've also enhanced the original filters, making them more powerful through a mass key terms search. These filters are the most powerful way to get a sector view really easily, allowing you to slice and dice the data quickly.
And more...
We are constantly improving our data quality

We've made it quicker and easier to get the answers you need, with the most powerful filters yet

Our rapidly growing team is more skilled than ever to be able to provide you with help and guidance, both on the platform and the wider public sector: we are here and ready to support you
Looking to the

Future
At Tussell, we are constantly striving to improve our platform further and we continue to have our customers at the heart of our developments. In the future, you can expect more feature updates that allow you to get the answers to important questions quicker and easier.
Keep up to date with our improvements and insights by signing up for our newsletter.
*
If you want to see how Tussell's updates and upgrades can help you to do more business with the public sector, book a personalised demo of the platform now.
Find out more and see examples of the wealth of insight and analysis that is achievable through the Tussell platform by checking out our reports and our blogs, which house regular public sector analysis, webinars, interviews and guides.
Receive free Tussell insights
Get the latest market updates sent straight to your mailbox