UK public procurement has been mobilised towards the 2050 Net Zero goal.
Through a raft of new policies, authorities and suppliers are being encouraged to embed carbon reduction throughout their procurement processes.
But has the public sector put its money where its mouth is?
We've produced a downloadable factsheet - which you can download by entering the form at the bottom of this page - analysing how much the public sector has already awarded towards Net Zero. It covers the biggest Net Zero suppliers, buyers, hotspots and more!
This short blog runs through our factsheet's headline insights, and picks out what it all might mean for your business.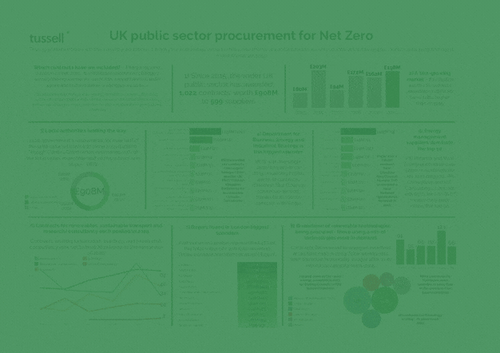 ♻️ The headline insights:
• Since 2015, the public sector has awarded over £2.1 billion in Net Zero related contracts.
• Net Zero is a rapidly growing market: £559 million has been spent in 2021 so far - a 6x increase on the 2015 total!
• Over half of the £2.1 billion awarded came from local governments.
• The Department for Business, Energy & Industrial Strategy is the biggest single buyer of Net Zero related contracts.
• Energy management suppliers make up most of the highest awarded companies.
• Buyers in London are the biggest Net Zero spenders.
🎯 What does this mean for your business?
Our factsheet clearly shows that even before the major funding and policy announcements made during the COP26 conference the public sector had already begun shifting gears towards the Net Zero goal.
The gradual rise in Net Zero related awards is likely to spike substantially over the coming years as plans to lower carbon and implement greener practices begin to kick into gear. Understanding where these awards might go - and from whom - is pivotal to get ahead of the curve.
Our analysis, for instance, hints that the bulk of these contracts' value might not lie solely in central government: local authorities have already demonstrated a proactive willingness to award Net Zero related contracts, so much so that they account for over half of the total value of contracts awarded since 2015.
Tussell's aggregated market intelligence platform lets you easily track upcoming Net Zero related opportunities, see who's already winning in the sector, and which authorities would make good targets.
Just as important as monitoring Net Zero opportunities is ensuring your own business is beginning to understand its Net Zero obligations. PPN announcements and the Net Zero Strategy clearly argue how important Net Zero commitments - and tangible plans to reduce your own carbon emissions - will be when awarding contracts going forward.
To dig into how the government expects the procurement process to become more climate-conscious - and what you need to prepare - read our analysis: Net Zero & UK Public Procurement: what you need to know.
Send me the full report
Get the PDF report emailed straight to your inbox