Thousands of companies - of all shapes and sizes - supply the public sector with technology. But some stand out above the rest, earning millions of pounds from the public sector each year. Who are they?
Meet the Tech Titans - our list of the top 150 tech suppliers by public sector revenue in calendar 2021.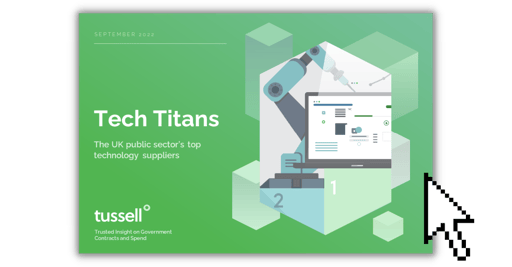 Click here to download the full report here.
This report unpacks the Tech Titans, revealing:
Who are the Tech Titans and what is their impact on public procurement

How and why their share of the IT market is nearly 90%

Which part of the public sector they are working in the most through sector analysis including the NHS

Which contracting authorities are most heavily reliant on them

The top frameworks they are using to win contracts

Who are the up-and-coming Tech Titans that you should keep an eye out for
Download the full report to dig into these insights.
*
If you want to discover more insights and analysis achievable through the Tussell platform, book a personalised demo of the platform now and check out our reports and our blogs, which house regular public sector analysis, webinars, interviews and guides.