Are you working in the public sector construction market, or want to be working in this space?
If you want to be successful in this market, it's pivotal that you understand the lay of the land, and know what key trends are affecting the industry.
By showing that you have a more holistic understanding of the market, you can pitch yourself as a well-informed, in-tune supplier.
To help you gain this knowledge, we sat down with Tussell's resident Construction expert, Dan Bomken, to get some insight and top tips into this massive public sector market.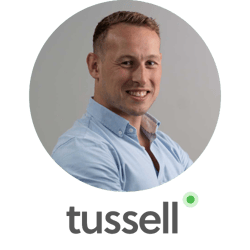 Dan has extensive consulting experience in the Real Estate and Construction Sectors, having worked at Gardiner & Theobald LLP and Mulitplex. He has overseen projects including the Earl's Court Redevelopment and Vauxhall Square.
Skip ahead to read about:
📊 What does the public sector construction market look like today?
Tussell's Construction Report provides a data-led picture of what the public sector construction market looks like today.
The Report shows that spending with public sector construction suppliers has more than doubled since 2016, growing from £10bn in 2016 to £23bn in 2021.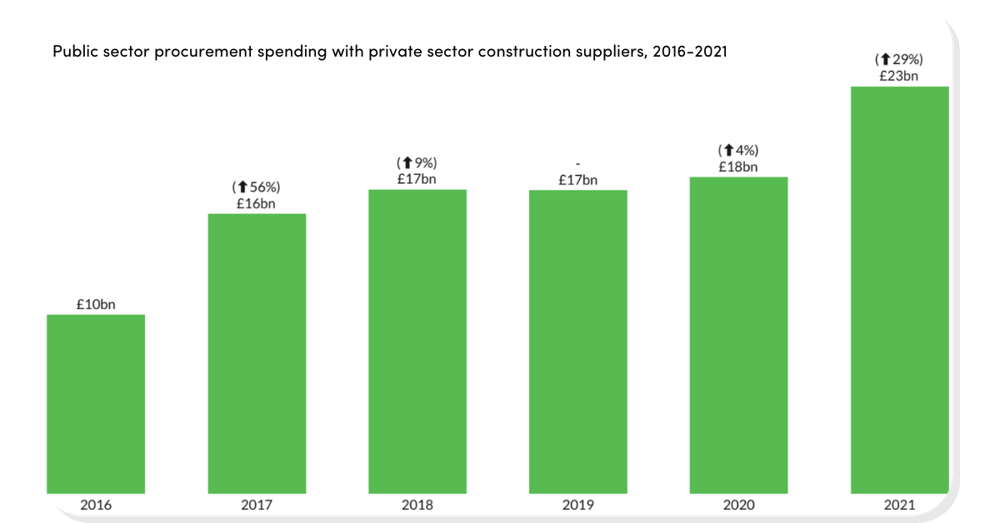 During 2016-2021, a breakdown by buyer type shows that Local Government spent £51bn in the period, Central Government spent £22bn and the NHS spent £7bn in the public sector construction market. This shows that Central Government are leading the way in the public sector construction market by quite some way.
Our analysis also indicates that the number of distinct buyers construction suppliers are working with does not correlate with how much they earn from government.
Skanska Construction UK Ltd, for example, earned £2bn from the public sector between 2016-21, across 34 different accounts.
Wates Construction Ltd, by contrast, earned a comparable £2.1bn across the same period, but worked with over 100 different buyers.
Consolidating your efforts into a handful of accounts may prove a more effective strategy in this marketplace.
To access and analyse this data for yourself, download our 2022 Construction Report.
🗺️ Lay of the land
The UK government aims to bring £31 billion worth of public works contracts to market in the coming year to support the delivery of public services and infrastructure.
The construction sector is a vital part of the UK economy, contributing £117 billion and supporting over two million jobs in 2018. The government is committed to improving the sector's productivity, delivering skilled jobs, and achieving net-zero emissions by 2050.
At the heart of how the public sector intends to procure construction-related services in the Construction Playbook. But what is it?
🛠️ The Construction Playbook
The Construction Playbook is the government's guidebook of what their expectations are from the construction industry. Suppliers will need to align their standards, behaviours and ways of working with the expectations laid out in the Playbook to stand a better chance of winning work with government.
Updated in 2023, the Playbook is a result of collaboration between the public and private sectors to align efforts and reform the industry. It supports the government's ambition to transform infrastructure networks over the next decade and beyond.
The Playbook is mandatory for Central Government and ALBs, operating on a 'comply or explain' basis.
The Construction Playbook is structured around the main stages of a typical procurement and project lifecycle, including preparation and planning, publication, selection, evaluation and award, and contract implementation. It has 12 chapters, each outlining best practices for specific topics and 14 key policies that are crucial for improving the delivery of public works projects.
For suppliers working in the public sector construction market, each of these 14 key policies will have a direct impact. Many of these policies have clear and tangible benefits for SMEs.
To read a summary of the Construction Playbook and find out what it means for suppliers and SMEs, check out our recent blog, 'The Construction Blog: aims & potential impact'.
Top trends:
Having looked at the data and understood what direction the government is aiming, it is easier to understand the trends at play within the public sector construction market.
Here are the key trends shaping the public sector construction market today, picked out by Dan:
🏥 Health and Safety
Dan started by saying that "health and safety is a top priority in the construction industry." Despite improved performance in the past 2 decades, the level of incidents and ill health remains high.
He said that now "the focus is on complying with legal requirements, reducing cases of occupational lung disease, musculoskeletal disorders, and work-related ill mental health including stress."
👷 Skills shortage
"Since Brexit, we have seen an exacerbated shortage of skilled workers in the construction industry."
This has prompted various challenges that have necessitated thoughtful solutions. These challenges have included delays, greater cost considerations and sometimes even some quality assurance issues within construction projects.
These challenges "have had wide-ranging effects on public services, competition within the construction sector and the progression of infrastructure initiatives."
To effectively address these concerns, a comprehensive approach is often required, which may involve initiatives such as workforce development, training programmes, and strategic planning by both public sector authorities and contractors.
🌍 Prioritisation of sustainability & net-zero
The prioritisation of sustainability and the pursuit of net-zero objectives have had a transformative impact on the public sector construction market.
It has led to changes in building practices, regulations, partnerships, and investment patterns, ultimately driving the development of more environmentally friendly and energy-efficient infrastructure projects.
Dan exemplifies; "BREEAM is a widely used sustainability assessment method and certification for buildings in the UK. It evaluates various aspects of sustainability, including energy efficiency, water usage, materials, and ecological impact. Public sector construction projects often strive for high BREEAM ratings to demonstrate their commitment to sustainability."
At every level of government, the trend is very clear - many local authorities and public sector organisations in the UK have set ambitious net-zero carbon targets for their operations and building portfolios. These targets require a holistic approach to sustainability in construction and operation.
📚 Modern Methods of Construction
Modern Methods of Construction (MMC) refers to innovative and efficient techniques and processes for designing, manufacturing, and constructing buildings and infrastructure. They are important because they offer solutions to some of the most pressing challenges in the construction industry while promoting sustainability, quality, and efficiency in building practices.
These aspirations align with the Construction Playbook's recommendation for contracting authorities to establish a comprehensive strategy spanning their portfolios and individual projects.
"Correct and thoughtful implementation of MMC will help the public sector construction market be greener and more efficient", Dan explained. "The government has released policy guidance on MMC, but it will require strategic planning, workforce development, and adaptations in regulations in order to offer an opportunity to deliver better infrastructure and facilities for the benefit of the public."
As MMC becomes more well-known and more widely understood in the public sector construction market, by both buyers and suppliers alike, it will shape further the trajectory of the market. It will also impact how suppliers and buyers do business with each other as more people think about its concepts.
🔑 What are the keys to success in this sector?
Understanding spending, routes to market and market trends gives you the best start at being successful in the growing construction market but you also need to employ best practices, prioritise correctly, and avoid common supplier pitfalls.
Here are Dan's top tips on how to be a successful supplier in the public sector construction market:


📝 Don't skimp on the basics
Don't get too carried away and miss the basic requirements.
" As someone who has reviewed tenders in a previous life, I can't believe how often companies fail to comply with basic criteria. In the public sector, there's no room for error - comply with the criteria, or risk having your bid rejected." Always check and follow any guidance documents related to the tender, as they provide important context for requirements.
Dan emphasises, "Submit two bids: one that meets the minimum requirements and one with your innovative solution. Trust me, reviewers love seeing that extra effort." Innovation is great, but it should not be done to the detriment of meeting the basic requirements.
📉 Shield yourself from economic turmoil
The current economic and political climates are unpredictable, so prepare yourself for unforeseen circumstances by safeguarding your tenders. Build contingencies into bid pricing to account for potential cost increases.
Dan's key piece of advice is to "negotiate clauses to protect against potential price hikes or supply chain disruptions." This has become common practice following the COVID-19 pandemic.
⚖️ Financial stability is key
Understand insurance, bond, and upfront payment requirements, as these differ a lot from private clients. There's huge value in early consultation with buyers on bonding/insurance requirements to avoid surprises. Proactively address financial requirements in your tender.
Dan warns, "After the Carillion collapse, these requirements are even more stringent. Show your financial stability and commitment to meeting these requirements to avoid missed opportunities and damage to your reputation."
✅ Prioritise your bids
"In 2022, there were 8,182 contracts awarded for construction projects. Don't waste time bidding for everything, choose wisely. Pick the contracts that fit you best and pour your efforts into those submissions for better results. Don't spread yourself too thin and risk submitting poor-quality bids. Quality over quantity!"
🏆 Differentiate your bid for victory
In the competitive public sector construction market, differentiation is key.
Emphasise collaboration by engaging with buyers early to understand problems and co-develop solutions. Dan suggests, "The UK government is eager to support innovative ideas, which could be the key to winning. Want to take it to the next level? Offer cost-saving solutions too. But be warned, differentiation should solve real issues, not just be for the sake of novelty."
*
Achieving success in the thriving public sector construction market requires a strategic approach that encompasses understanding market dynamics, safeguarding against economic uncertainties, demonstrating financial stability, and making informed bid prioritisation decisions. Effective differentiation through innovation and problem-solving can set suppliers apart in this competitive landscape.
"By adhering to these principles and avoiding common pitfalls, you [suppliers] can enhance their prospects of securing valuable contracts and thriving in the evolving construction sector".


🔮 What does the future look like for the public sector construction market?
Skills shortages, new construction methods, and the drive for more sustainable Net Zero practices are having a transformative effect on the industry, setting the stage for a dynamic future.
Dan reflected: "Looking ahead, we can expect further digitisation, consolidation and specialisation among contractors, and increased use of strategic supplier relationships and partnering models by public sector clients."
Dan suggested some trends that he thinks we might see in the future:


🏘️ New Building Regulations 2022
The updated UK building regulations include revisions to Approved Documents Part F (Ventilation) and Part L (Conservation of fuel and power), as well as the introduction of new documents for Overheating (Part O) and Infrastructure for electric vehicle charging (Part S). The modifications are driven by the UK government's commitment to achieving net-zero carbon emissions by 2050 and are part of an interim roadmap towards the Future Homes Standard and Future Buildings Standard planned for 2025, which will require new builds to be net zero in operational carbon as the grid decarbonizes.
These new regulations came into effect in June 2022, however, a one-year grace period currently exists. Thus, if your project received Building Regulations permission before June 15, 2022, the old requirements continue to apply.
The new building regulations cater to 3 types of buildings: new residential structures, existing residential structures, and buildings other than dwellings. Each building type must comply with a set of new regulations.
🏛️ The New Procurement Act 2023
The Procurement Act is a major piece of incoming legislation, set to bring significant changes to procurement operations across the public sector.
The Bill started life in the House of Lords in May 2022 and is made up of 116 clauses, over 13 parts and 11 schedules - making it very complex. It received Royal Assent in October and has an expected "go-live" date of October 2024.
Some key changes the Act is due to introduce includes:
Open frameworks – allowing new suppliers to join frameworks after they have been set up

Consideration for national priorities – having regard for the National Procurement Policy Statement to consider national and local priorities when procuring (e.g. creating new jobs, skills and encouraging new businesses)

Increased visibility – contracting authorities will be required to publish more notices throughout the procurement process; to learn more about them, access our New Notices Flowchart PDF
Dan summarised, "The Procurement Act will increase transparency and reporting on public contracts, which should drive more competition and better value." Prioritising whole-life value over immediate costs seems to be a significant advantage of the Act.
However, this approach often entails higher initial expenses. The government must be ready to accept that initial construction estimates might rise to include products and features that enhance the overall value and performance over the lifespan of the project. It remains uncertain whether they will be receptive to these increased project costs.
To find out more about what the Procurement Act is and the changes it is expected to bring, check out our blog, The Procurement Bill: what it means for you.
🌍 Net-Zero aims
The UK government aims for net zero carbon emissions by 2050. As a result, the public sector must leverage its purchasing power to reshape how public projects are delivered to meet this goal.
It is expected that all contracting authorities should strategise to achieve net zero greenhouse gas emissions by 2050 or earlier, including minimising emissions from construction projects throughout their lifespan.
Dan explained that "this involves using whole-life carbon assessments, measurable emission reduction commitments, and supply chain decarbonisation." This approach aligns with broader sustainability goals such as reducing energy usage, improving waste management, fostering employment and training, and environmental protection.
🛠️ Further impact of the Construction Playbook
The full impact of the Construction Playbook has not yet been felt. Potential amendments and policy revisions may modify the Playbook and it's influence within the sector.
Dan pointed out that "a phased, 'comply or explain' implementation risks inconsistent adoption. Mandating the 14 key policies for all central government projects, while allowing proportional application of other principles, would better drive change. Continued industry engagement is essential."
He added that "The Playbook's focus on improving government-industry relationships through fair returns, conflict avoidance and balanced risk management is commendable and should make working with government more attractive if implemented properly."
However, some parts of the Playbook are vague and ambiguous and could leave too much open to interpretation. This is something that Dan also picked up on: "I'd have liked to see more on skills development and workforce training to build capacity for innovations like MMC. Guidance on appropriate contract lengths and breakpoints would also have been helpful."
Concluding thoughts
The UK's public sector construction market is evolving.
The current trends of health & safety, skills shortages, net zero prioritisation and MMC will continue to shape the market. As a result, you need to consider the ongoing impact of these.
Whilst considering this, keep in mind Dan's top tips on how to succeed in the public sector construction marketplace - follow best practices, get your basics sorted and prioritise wisely.
Keep an eye out for the impact of the new Building Regulations and the Procurement Act and the expected further impact of MMC and the Construction Playbook. It is crucial to stay on the ball with government updates and changes in policy so that you remain informed and well-versed in your public sector marketplace.
If you're a construction supplier, there's never been a better time to enter this ever-growing marketplace - just be sure you heed the advice of the expert above.
*
To find out more about the public sector construction market, check out our Construction Report which you can download and read for free. It includes everything you need to know about the top suppliers, buyers and frameworks in the sector.
You can also read further into the Construction Playbook in our summative blog and find out how the Playbook might affect you.
Tussell's market intelligence platform is already being used by construction suppliers to track new opportunities, dig into their target accounts, see who their competitors are working with, and understand which frameworks they should get onto to win more work.
Book a personalised demo with our team to see how Tussell can unlock public sector insights and opportunities for your business.