The public sector is spending more and more on construction. In the 12 months to September 2021, authorities spent a record £29 billion with construction suppliers: a 15% increase on the period prior.
To better understand this critical sector, we've harnessed data from Tussell's market intelligence platform to conduct a cross-section analysis of construction procurement across England from 2016 - 2021.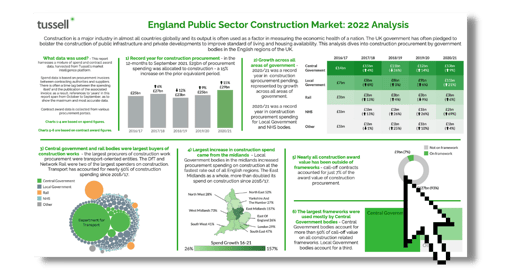 Click here to download the full factsheet.
Below, we've condensed the main findings of our analysis:
In the 12 months to September 2021,* the public sector spent a record £29 billion on construction: a 15% increase on 2019/20's £25 billion.



Central Government bodies have remained the largest procurers of construction services since 2016/17, spending £13 billion in 2020/21 vs. £11bn spent by Local Government bodies in the same period.



Transport-oriented bodies were the largest construction procurers, with the Department for Transport accounting for nearly 50% of construction spend since 2016/17.



From 2016/17 to 2020/21, the East Midlands experienced the largest growth in construction spend, at a substantial 157%.



Nearly all construction contract award value has originated outside framework agreements: just £9bn of the £127bn worth of construction-related contracts awarded from 2016/17 - 2020/21 originated from framework agreements.
* Due to the lag between actual spending and the publication of the associated invoice, yearly periods in this analysis span October to September.
Receive free Tussell insights
Get the latest market updates sent straight to your mailbox