Public sector clients are being put on high alert to bid-rigging dangers in public procurement as the Competition and Markets Authority (CMA), the UK's competition watchdog, rolls out free training resources and teach-ins for commercial teams on how to identify and report suspect supplier patterns in tender exercises.
This, combined with the CMA's recent increase to its informant reward and its covert intelligence capabilities, means the risk of getting caught breaking the law by colluding with rival suppliers to rig bids for contracts is high – and the repercussions are serious.
In this exclusive guest blog, the Competition and Markets Authority (CMA)'s Richard Brown - Assistant Director of Cartels Enforcement - has worked with Tussell to draw your attention to the serious consequences of bid-rigging, with the clear message: don't repeat the mistakes other construction firms have made in recent cartel cases – ensure you and everyone in your business is clear on, and complies with, the law.
*
Background & Context
The CMA has investigated a number of cases where public sector bodies have been the victim of anti-competitive supplier behaviour, including bid-rigging practices.
The construction sector has been a particular area of focus – with the authority imposing just under £134 million in total fines across 6 separate construction cartel cases – those affected included publicly funded projects.
In March this year, the CMA fined ten construction firms nearly £60 million for illegally colluding over private and public sector contracts. The wrongdoing took place between January 2013 and June 2018, and related to 19 contracts worth over £150 million.* Clients with sites at the Met Police training college, the former Bow Street Magistrates Court, Selfridges (London) and Oxford University, were among those affected.
* Some parties in the case are currently appealing the CMA decision.
The consequences if you are found to have broken the law are serious, and include:
Significant fines (up to 10% of global annual turnover)

Director disqualification (up to 15 years)

Third-party damages claims

Potential for future debarment risk

Big reputational hit

and in the most serious, criminal cases - prison (up to 5 years)


Bid-rigging explained – and why the CMA takes it so seriously
Bid-rigging is a form of procurement fraud, an anti-competitive arrangement between rival suppliers to undermine fair competition – it can increase prices by 20% or more.
Every year, billions of pounds are spent procuring goods and services in the UK, particularly by the public sector – which is a big client of the construction industry. Where businesses compete to win contracts, purchasers get fair prices and choice, including more innovative products and services. However, if companies collude to rig bids for contracts and decide amongst themselves who will win a tender, they rip off customers who often end up spending more than necessary, and for less in return.


Types of illegal bid-rigging activity to avoid:

Bid rigging can come in a variety of forms. Some of the most common are:

Bid rotation
Companies agree to take it in turns to have the most attractive bid on a project thereby ensuring they all have an agreed share of the market

This is usually done in conjunction with cover pricing and/or bid suppression
Cover pricing
Companies that don't intend to win the contract communicate with their competitors and agree to submit inflated prices for the job so that another (often pre-arranged) bid from another company looks much better value
Bid suppression
Companies agree not to submit a bid at all, which means other firms face less competition to win the contract

This is normally done in exchange for some kind of payment or kick-back, or as part of an arrangement where the winning bidder then sub-contracts part of the work out to the non-competing firm.


How to reduce cartel risk in your business
Here are some crucial steps to take:
Be aware of what bid-rigging is - make use of CMA compliance advice

Never agree to alter a bid or accept a compensation payment to lose a tender so a rival can 'win' - never agree with rivals not to compete for customers or business

Ensure staff have regular training on competition law risk and that there is a clear process in place for staff to raise / report concerns

Company directors must lead by example and have personal responsibility for ensuring that the companies they lead comply with the law and compete fairly - otherwise disqualification is a serious risk

If you are approached to take part in an illegal cartel agreement you should clearly reject the approach, immediately report it to your legal team and seek independent legal advice

Read and share the CMA's compliance advice on the Cheating or Competing campaign page



Benefits of cooperating with an investigation
If a company is the first to report being part of a cartel and fully co-operates with an investigation, it can benefit from immunity from fines and its co-operating directors can avoid director disqualification.
Even after an investigation has started, it can still benefit from reduced fines through our leniency programme. In this case, two of the businesses did this and it benefited from reductions in fines.
Individuals may also be eligible for immunity from prosecution and director disqualification if they come forward independently and cooperate with the investigation.
If you think you may have broken the law, we always recommend that you seek independent legal advice.
Have information that might be useful to us?
If you have information on other companies in your industry that may have been involved in an anti-competitive arrangement, report it to us; you may qualify for a reward.
For more information, including how best to report, visit the CMA's 'Cheating or Competing?' campaign page.
*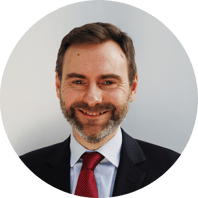 Richard Brown is the Assistant Director of the Cartels Enforcement team within the Competition and Markets Authority (CMA). He has led investigations in a number of cartel investigations (both civil and criminal cases). Most recently Richard investigated a construction cartel case where 10 construction firms have provisionally been found to have illegally colluded to rig bids for demolition and asbestos removal contracts.

Richard is by background a criminal barrister who practised for ten years in the criminal courts defending and prosecuting the full range of criminal offences. He then joined the Government Legal Service in 2008 working at the Serious Organised Crime Agency where he conducted civil recovery proceedings, aiming to seize the proceeds of unlawful conduct.
*
To learn more about the CMA and the work they do to tackle anti-competitive procurement practices, head over to their website.
If you're part of a contracting authority and want to learn more about how you can avoid falling victim to bid-rigging and other illegal procurement practices, check out CMA's guest guide on How to ensure your procurement achieves true value for money.