One crucial way to get ahead of your competitors when selling to the public sector is to have a detailed picture of your target accounts: who they are working with, what they are buying, and when.
You'll need to dig into the data to get this understanding. This how-to guide runs through our 5️⃣ simple steps that you need to do to profile your target accounts, both through publicly-available avenues, and via Tussell's market intelligence platform.
These 5 simple steps include answering:
How to profile a target account
The answers to all these questions can - in theory - be found in the public domain through an array of websites and government platforms, such as Find a Tender and Contracts Finder. The results returned often require a lot of manual processing in order to actually get a comprehensive understanding of your target accounts.
If we wanted to profile Birmingham City Council via Contracts Finder, for example, you could:
Search for contracts awarded by the Council by searching "Birmingham City Council" in the keywords search, and adding any relevant keywords specific to your sector - for example, adding '+"cloud"' to capture cloud services-related contracts. This will include likely capture lots of irrelevant contracts, however.

Identify whether your competitors are currently working with the Council by adding their name to the search - for example, adding '+"Serco"' if we wanted to find contracts awarded by the Council to Serco (note, this will only capture suppliers with 'Serco' in their entity-level name, and not their subsidiaries).

Note which of the Council's contracts were awarded via a framework agreement by digging into the contracts' main text. This can signal which framework agreements may be worth your time applying for if you want to win similar work - due to difference in publishing standards, however, information on framework agreements may not always be immediatley obvious.

Note when relevant, likely-to-renew contracts with the Council are due to expire. Knowing this will enable you to build a pipeline of opportunities, and plan ahead for when to engage with the Council.
There are other ways to manipulate sites like Contracts Finder, but one salient point remains: building out a comprehensive profile of your target accounts, who they're doing business with, and when opportunities with them are likely to arise is difficult through publicly available platforms.
Profiling target accounts in the public sector can be an arduous and drawn-out process. With Tussell, you can save valuable time and money by getting your answers quicker.
How to profile a target account: the Tussell way
1️⃣ Work out how much they spend in the public sector
Measuring how much your target account spends boils down to two fundamental stats: which suppliers it's spending money with, and in which sectors. In just a few clicks, you can see this via the Tussell platform through the "spend data" tab.
Invoice data gives you a higher-level picture of your target account's spending footprint, allowing you to see who is spending with whom, and in which sectors.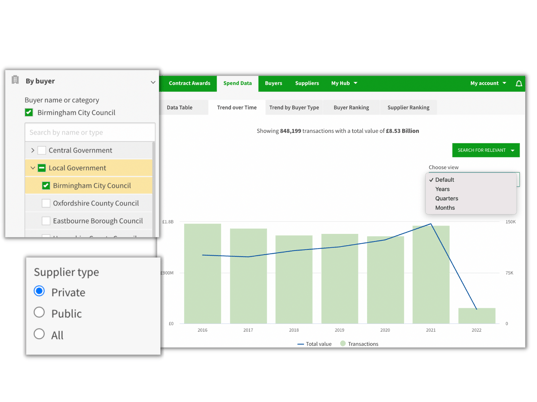 Contract award data then goes more in-depth, showing you the individual pieces of work that underpinned these invoices.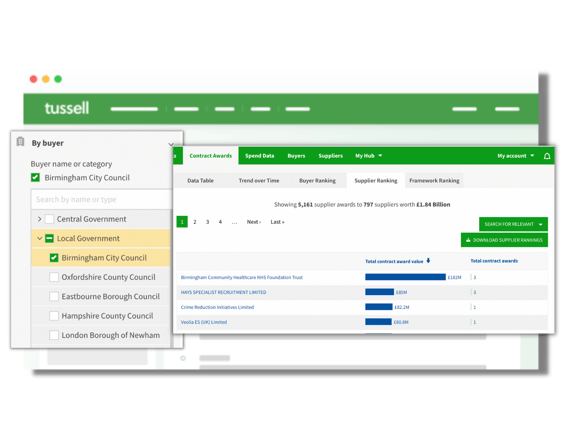 Using the example of the Birmingham City Council, we can quickly see who they are working with and where they are spending the most. We can instantly see, for example, that the largest supplier to Birmingham City Council by total contract award value is Birmingham Community Healthcare NHS Foundation Trust.
On the other hand, if you were to try and find this information through publically available routes, you would have to trawl through an additional website - Find it in Birmingham- requiring further manual searching, de-duping and aggregation.
Tussell eliminates the need for manual searching and sorting as our data is already aggregated and de-duped, saving you lots of valuable time!
2️⃣ Which of your competitors do they work with?
Knowing who your competitors are working with, and what they are offering, can help you to make your offering stand out. It enables you to set your prices competitively, discover opportunities and find gaps in the market.
You can see who your main competitors will be when targeting a prospect by looking at the "supplier ranking" tab.

Using this data you can then see who your main competitors are for the target account based on how much that account has spent with those suppliers in the past.
You can then zoom in on your potential top competitors according to sector using the sector filters as part of your search.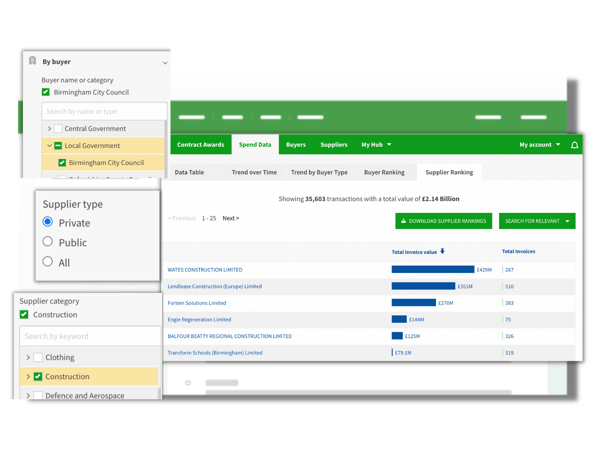 From running a search on the top supplier to Birmingham City Council in the construction sector, for example, we can see that the top supplier is Wates Construction Limited with a total invoice value of £429 million over 267 contracts.
If your prospect has one or two preferred suppliers receiving the vast majority of their spend in your sector, this means they are likely very embedded in the account's supply chain, so it could be difficult to displace them. Check out our previous blog to learn more about displacing incumbents in the public sector.
3️⃣ What are their existing and expiring contracts?
Tussell allows you to easily see the key details of expired, live and soon-to-expire contracts.
Digging into the details of your target accounts' contracts will allow you to have a better understanding of their needs, and better follow the development of the current contract. This, in turn, will enable you to write a more compelling, personalised bid once the contract comes up for renewal which will be better than your competitor's.
As you see below, Tussell provides you with the contract status, value, type and sector of all contracts - these are four key pieces of information that you need to get ahead of the game and understand what a contracting authority is, or going to be, looking for.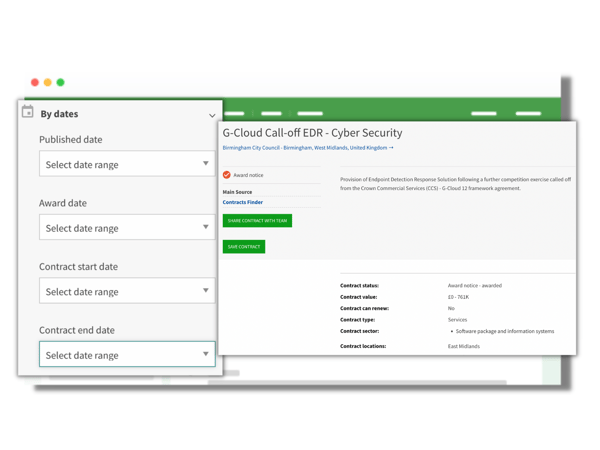 With Tussell, you can also filter contracts by when they're due to expire, enabling you to see well in advance when a contract is likely to come up for renewal.
Keeping track of soon-to-expire contracts with your target accounts will enable you to build a pipeline of opportunities. It's no good waiting and reacting to tenders, you need to be proactive - anticipating when and where opportunities are coming from before they are released gives you the chance to have the upper hand. It is paramount that you develop a relationship with the contracting authority well in advance of a potential tender's release date.
Although this is a long-term process, it's entirely worth it. With a solid relationship already established, you'll be more readily accepted as a viable alternative to the incumbent in the eyes of the contracting authority.
4️⃣ Which frameworks do they use the most?
Knowing which frameworks your targets accounts are actually to award work in your sector is critical. Applying for their most-used frameworks - rather than, say, the frameworks they say they want suppliers to use, or are trying to promote - will save you bags of time, and pose you with more opportunities.
Normally, a lot of manual work is required to find out which frameworks your target account uses. It usually entails searching through contract awards manually and looking in their description for references to frameworks. Alternatively, the framework used can be found in the procedure of the contract award - again, a manual searching process.
Using the framework ranking view on the Tussell platform you can see the top frameworks used by your target accounts to procure contracts in your sector, or another sector, in just a few clicks.
With this search we were able to identify that the top framework used by Birmingham City Council to award contracts for construction work (CPV: 45000000) was Delivery Partner Panel 3 by value and P0479- Framework Agreement for Landscape Construction 2019- 2023- AWARD for call's off by volume.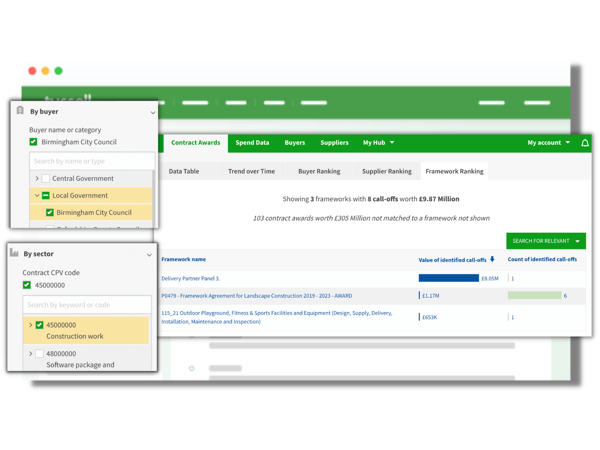 Through normal avenues, it is very difficult to actually know which frameworks are being actively used by your target accounts. Using the data provided by Tussell, you can identify which frameworks are being used and when rather than frameworks that are created but not actually used.
5️⃣ Who are the key decision-makers?
Having identified your target account's key frameworks, upcoming contract renewals and who they are working with, you then need to get in touch with the key stakeholders to begin building a relationship with your target accounts.
Finding out the key decision makers and their contact details is a harder task than you'd think at first: this information has to be manually found. Sometimes it is on the buyer's website, within their organisational data or organograms, or it can be within their directory or contact area - each contracting authority is different.
Using Tussell's database of over 80,000 key decision-maker contact details, you can identify the individuals behind each opportunity that you need to engage ahead of time, based on their seniority, job title or function. With Tussell, you can search with confidence using our contextual search and advanced filters to find only the people relevant to you- saving you time and making every search matter.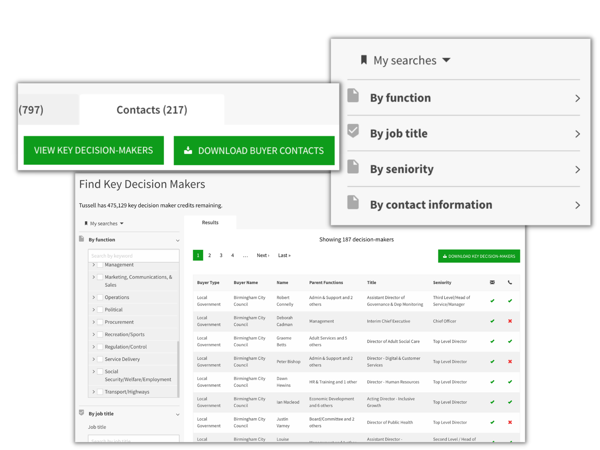 These early engagements can then be built on with intelligence from Tussell: for example by noting a recent change in their suppliers, or a recent tender they've published, you can make your outreach more informed and resonate with the decision-maker.
*
By using the Tussell platform you will have all the information you need to profile a target account and use this to get ahead of your competitors by arming yourselves with the data you need to be decision-ready from the get-go.
This information is just the beginning of what you can discover and learn about target accounts, your competitors and the wider public sector using the Tussell platform. With Tussell, you can easily and quickly analyse public spend data, contract awards and framework information.
Find out more about us and how you can unlock public sector insights and opportunities: Book a personalised demo with our team.