Frameworks are a critical way for suppliers of all sizes to sell into the public sector.
In this new series, we will be harnessing Tussell's framework data to deep-dive into how top government suppliers are using frameworks to sell to the government. In this edition, we are focusing on one of the public sector's leading consultancy suppliers, Deloitte.
This report serves as an indicative case study for other large suppliers as to the importance of frameworks as a way to access key government markets.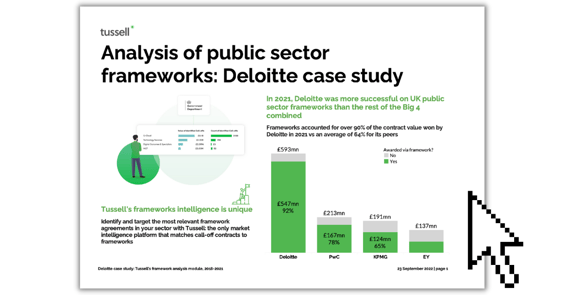 Click here to download the full report here.
Tussell's data revealed these critical insights:
How Deloitte has been more successful at winning public sector contracts through frameworks than the rest of the Big 4 combined;

Which frameworks were Deloitte winning business through;

What was the impact of Covid;

Which authorities were working with Deloitte via frameworks;

How you can learn from Deloitte's success in capitalising on using frameworks as an efficient route to market.
Download the full report to dig into these insights.
*
If you want to discover more insights and analysis achievable through the Tussell platform, book a personalised demo of the platform now and check out our reports and our blogs, which house regular public sector analysis, webinars, interviews and guides.
Receive free Tussell insights
Get the latest market updates sent straight to your mailbox