It is thanks to AI that we have the ability to harness massive amounts of data and use this intelligence to make optimal decisions quickly. As a result, within public sector procurement, AI allows the government to make data-led decisions in just a fraction of the time.
If you want to capitalise on the opportunities in the growing AI sector, you'll need to have an overview of what the market looks like. Harnessing data from Tussell's market intelligence platform, we have produced a low-down of AI in the public sector, including the market's latest trends, the key players within the sector and the top frameworks used within the market. In addition to this, the blog goes on to look at the keys to success in this sector and what the future of AI in the public sector may look like.
We've teamed up with our digital transformation and Artificial Intelligence expert partner Darius Pocha at Create/Change to add some expert insight into the world of AI.
Skip ahead to read about:
A little about our partner:
Create/Change "works with central government departments and agencies on development of policy and transformation of public services. We've been doing feasibility work on using AI for decision-making systems as well as building data science and ML proofs-of-concept".
Darius Pocha is the Co-Founder of Create/Change, which was founded in March 2018. He is a social designer, entrepreneur and adviser to the UK Government & Civil Society and works with major programmes in education, health, climate, justice & culture.
What does the public sector AI market look like today?
The National AI Strategy:
The key piece of documentation that will shape the adoption and use of AI within the public sector is the UK Government's National AI Strategy which was updated in September 2021. Within this report, Nadine Dorries (Secretary of State for Digital, Culture, Media & Sport, at the time) wrote...
"This is the age of artificial intelligence. Whether we know it or not, we all interact with AI every day - whether it's in our social media feeds and smart speakers, or on our online banking. AI, and the data that fuels our algorithms, help protect us from fraud and diagnose serious illness. And this technology is evolving every day."
This AI Strategy aimed to build on the UK's strength and represented a "stepchange" for AI in the UK. Alongside this, it recognised the growing importance of AI and its increasing levels of productivity and the potential it provided for innovation. The strategy outlines how the government plan to incorporate AI within the public sector and wider a-field to increase innovation and effectiveness within the procurement process.
One of the three main pillars within the strategy, "ensuring AI benefits all sectors and regions", promised to begin engagement on the Draft National Strategy for AI-driven technologies in health and social care as well "to continue supporting the development of capabilities around trustworthiness, adaptability and transparency of AI technologies". The strategy also promised the evaluation of the private funding needs and challenges of AI scaleups - something which would benefit many AI suppliers.
Additionally, the third pillar "governing AI effectively" promised updated guidance on AI ethics and safety within the public sector as well as an AI Standards Hub pilot and in-depth analysis on algorithmic transparency.
All of these commitments within the National AI Strategy hope to increase the accessibility and transparency of AI within the public sector thus making suppliers feel more supported and protected, whilst buyers and users are able to trust and effectively use AI services. If the government is able to deliver on these commitments then it will increase not only the size of the AI market but also the stability of the sector.
Contract Award Data:
Contract award data from Tussell's market intelligence platform shows us that the AI sector is bigger than ever, both in terms of contract award value and the volume of contracts awarded. In 2016, the total value of AI-related contract awards was £100.7 million and this grew by over 3 times to £375.6 million in 2021.* Likewise, the volume of awarded contracts grew from just 18 contracts in 2016 to 207 in 2021.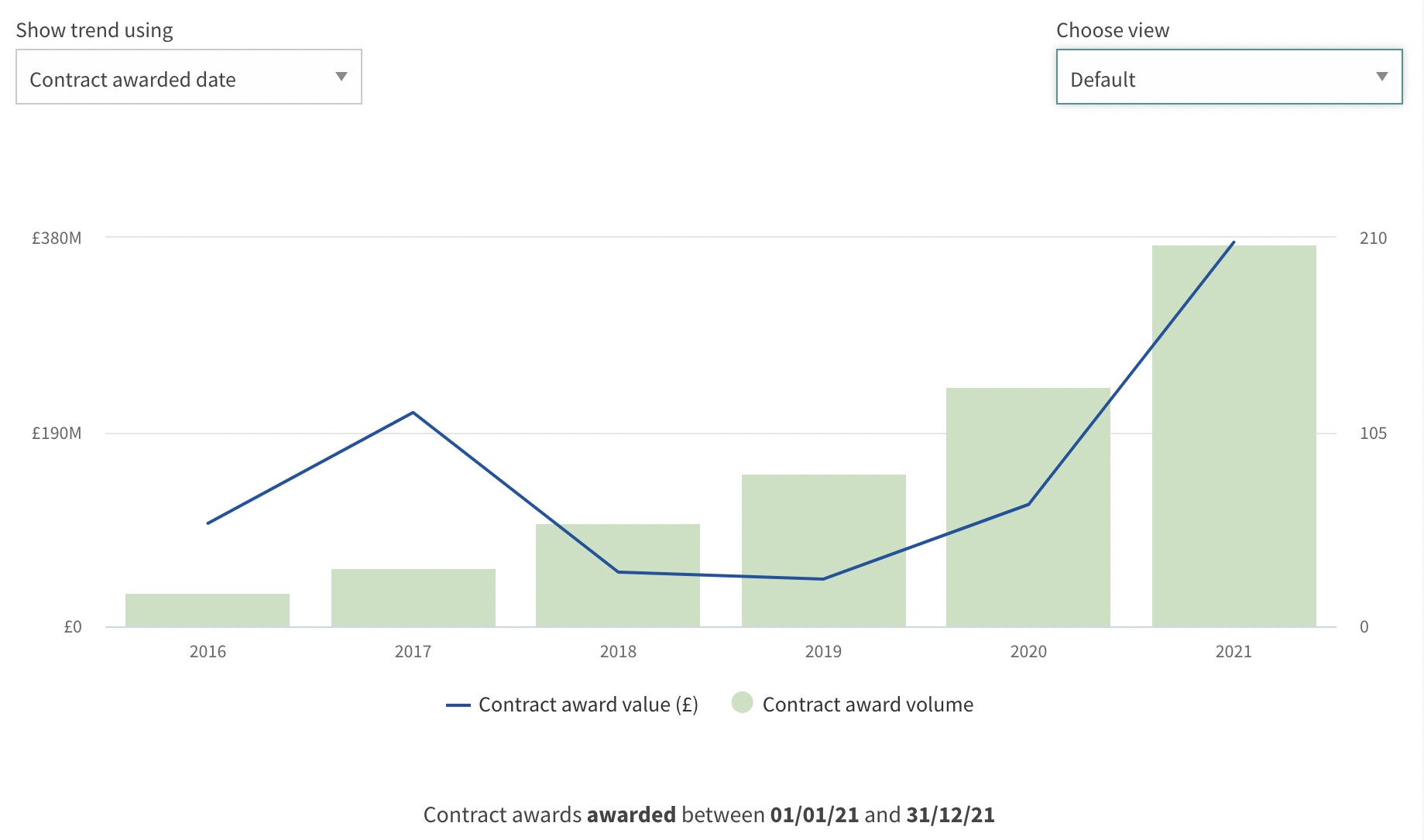 *These results were generated using a search combining multiple AI-related keywords, including "automation technology", "robotic process automation" and "digital workforce".
Below is a breakdown of the largest buyers and largest suppliers of AI, by total contract award value across the same period.
Top buyers:
| | | | |
| --- | --- | --- | --- |
| Contracting authority | Organisation type | Total contract award value | Top supplier |
| Imperial College Healthcare NHS Trust | NHS | £194mn | |
| HM Revenue & Customs (HMRC) | Central Government | £90.6mn | |
| Peterborough City Council | Local Government | £80mn | |
| Ministry of Defence (MOD) | Central Government | £73mn | |
| Department for Health and Social Care (DHSC) | Central Government | £69.5mn | Innova Medical Group Inc |
Top suppliers:
| | | |
| --- | --- | --- |
| Supplier | Total contract award value | Top customer |
| Abbott Laboratories Limited | £194mn | |
| Cognizant Worldwide Limited | £90mn | |
| Konica Minolta Business Solutions East Limited | £80mn | |
| Capgemini UK PLC | £52.2mn | |
| Coforge Limited | £44mn | Office of Communications (OFCOM) |
Frameworks
A critical route-to-market in this sector is through frameworks. Tussell's framework data tells us that between January 2016 and December 2021, 144 AI-related call-off contracts were awarded with a total value of £225 million across 45 frameworks.
Out of a total of 526 contracts awarded between 2016-2021, just under one-third of these contracts (27.37%) were awarded via a framework. With this many contracts being awarded through frameworks in this sector, it is critical that you are capitalising on these frameworks.
Being on the right public sector frameworks has never been more important for suppliers and allows you to prioritise which ones are worth targeting. To learn more about how to find the most used frameworks in your sector, check out our how-to guide.
Top Frameworks:
By total call-off award value, we identified the most valuable AI framework during this period to be Technology Services 2 - RM3804. This framework alone had a value of identified call-offs of £133 million between the beginning of 2016 and the end of 2021.
By total call-off award volume, the most frequently used cloud services frameworks during this period were:
Impact of COVID-19:
The pandemic has in part been responsible for increasing the potential for AI. As Darius Pocha comments, "I think government has seen the potential for using data science techniques for policy formulation and planning." Realising the potential of AI in terms of the innovation it could bring is the first step in the market really taking off. Darius added: "This is a good development - the traditional policy-makers toolkit of longitudinal research, small-scale qual and stakeholder engagement often isn't equal to fast-moving, population-scale problems."
The pandemic highlighted the potential for AI but also drew into question the government's ability to use AI to its fullest potential. Darius pointed out, "There are already some quite big data science teams in government but it's very unevenly distributed and often the policy and delivery teams that could use their knowledge don't know what to commission from them."
Whilst the pandemic certainly increased the awareness and need for AI, it has brought to light some potential problems that need to be addressed in order for the AI sector to continue growing securely. So far, the aforementioned government's National AI Strategy has made progress and looks set to provide solutions to some of these problems and provide infrastructure to capture any future problems in ample time.
What are the keys to success in this sector?
Understanding spending and using framework insight gives you the best start at being successful in the growing AI market but you also need to employ best practices, prioritise correctly, and avoid the common supplier pitfalls.
Darius' key advice in this area is "to bring specific domain expertise, not just in terms of specific technologies but where and how they're applied. Make that relevant to the Department you're speaking to." The landscape of AI is constantly changing, at a rate faster than most sectors, so staying informed and up-to-date is crucial to be able to do business in this area: well-informed companies that have a deep understanding of the sector are more likely to win contracts. Continuous reading and learning are fundamental to achieving this. Staying ahead of the curve is critical - the Tussell platform can help you do this.
Alongside this, Darius also warned both hopeful and incumbent suppliers "[to not] underestimate the importance of the complexity of the work. Working on public sector problems is humbling: be prepared to care deeply about getting it right and assume that you will need to raise your game from a technical perspective.", highlighting the importance of the need to stay informed and up-to-date. You must do your research and know your stuff if you want to be successful in this sector. There are vast amounts of research and papers from both the government and independent bodies on AI and its role within public sector procurement that you need to stay across. These include documents such as the government's Guidelines for AI Procurement and papers from the Centre for Data Ethics and Innovation and the Office for Artificial Intelligence.
What will affect the future of AI in the public sector?
Looking to the future, it is evident that there are new tools and data science techniques that will change the face of AI alongside the impact of new government legislation. AI looks set to shape the future of humanity as it impacts every industry and sector.
AI Growth & Assurance:
Darius noted that "The UK is leading the way on having a robust approach to issues like algorithmic transparency and three-party assurance. It's important to understand what's going on in that space and to be looking at what's coming out of places like the Centre for Data Ethics and Innovation (CDEI)." Currently, the CDEI is carrying out a survey on AI assurance methods and tracking public attitudes to data and AI. These are important areas to look at as they will impact the rate at which AI gets assimilated into everyday society - without trust and understanding from citizens, AI will not be implemented to its full potential.
New Legislation:
A major Bill is currently on its way through the legislative process that will have a substantial impact on AI in the public sector - The Online Safety Bill. "The Bill introduces new rules for firms which host user-generated content, i.e. those which allow users to post their own content online or interact with each other, and for search engines, which will have tailored duties focussed on minimising the presentation of harmful search results to users."
Darius said "I hope the Online Harms Bill makes good progress - if designed well it could be a very important piece of legislation." The Online Safety Bill will use AI to find and remove content and accounts that break the rules of the Bill. Additionally, companies will have to do more to ensure that they are adequately protecting users from harm. Those that fail to provide this protection will face fines of up to 10% of their revenue or even be blocked. Ofcom, the communications regulator, will be appointed as the regulator for the Online Safety regime and will oversee and regulate the framework.
In preparation for this Bill, companies will need to ensure that they have cracked down on illegal content on their services. "They will also need to assess whether their site is likely to be accessed by children, and if so, protect children from harmful and inappropriate content such as that showing pornography or violence. The regulator will have additional powers to ensure companies take particularly robust action to tackle terrorist activity and child sexual abuse and exploitation online."
AI will be fundamental in the success and ease of implementation of this Bill. These benefits will continue to be seen throughout the everyday running of the Bill due to AI's ability to save time and deal with large data sets.
A New Framework:
A final thing to watch out for in this sector is the introduction of the new G-Cloud 13 framework which was introduced on the 9th November 2022. This framework replaced the G-Cloud 12 framework so will likely become one of the main frameworks for the procurement of AI-related services and products as well as the wider IT and Technology sector. Getting onto this framework is a huge benefit for suppliers as it likely provides a quick and easy route to sell AI to the public sector.
The need for better efficiency and value for money has never been more paramount - AI has risen as a crucial answer to these calls. If you're an AI provider, there's never been a better time to enter this ever-growing marketplace - just be sure you heed the advice of the experts above.
*
If you want to make inroads into this market, you'll need complex data on your side to decide who to target, know who you'll be up against for opportunities, and what the best routes to market for your business are. With Tussell, you can analyse public spend, contract awards, favoured frameworks and more, helping you make more informed decisions and strategies when selling to the public sector, at any time.
Book a personalised demo with our team to see how Tussell can unlock public sector insights and opportunities for your business.