The public sector's tech high-risers
In partnership with techUK, the Tussell Tech200 lists the fastest growing technology companies in the UK's public sector, from FY 2019/20 to FY 2020/21.
200
fastest growing technology firms in the public sector
345%
average percentage growth
Read our brief overview and analysis of the Tech200 here.
Do you work for a Tech200 company and want to share the story of your growth in the public sector? Contact us.
Methodology - note on group companies
Our analysis is conducted at 'entity level'. This means - especially for larger firms who do business through multiple legal entities - the performance of an individual company is likely to differ to that of the overall company/group.
*For example, the following applies to Computacenter: 759% is the year on year growth rate for the entity Computacenter PLC. Over the same period, Computacenter (UK) Limited grew by 61%. Had the two companies been consolidated to show Computacenter's performance at group level, the combined growth rate would have been 151% - placing the Computacenter group at 154th place in the Tech200 ranking.
For more detail on the methodology, click here.
Want to see how we made the list?
Book a personalised demo with our team.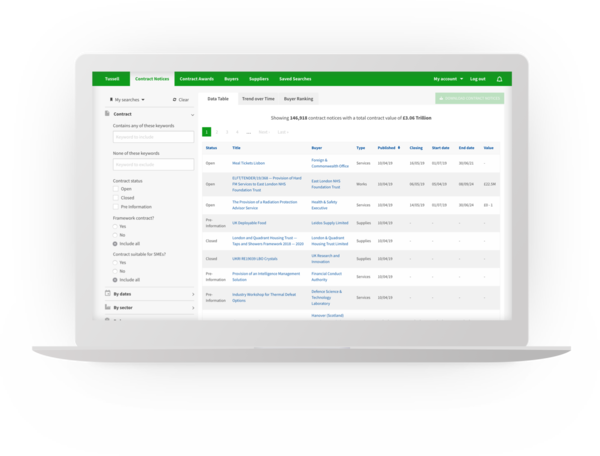 Do more business with government
Tussell's all-in-one market intelligence platform provides essential insight into your public sector markets, customers and competitors.
£4.8 trillion in contract notices
£3.6 trillion in spend invoices
8,200 public bodies & 235,000 suppliers
20,000+ frameworks
266,000 buyer & supplier contacts