Pseudo-Dynamic Purchasing Systems are being used more and more to award work in the public sector.
This lesser-known route to market is actually being used more than you realise.
It is crucial to understand how a pseudo-DPS works and how it differs from frameworks and DPSs so that you can get the most out of these routes to market.
This PDF compares pseudo-DPSs, DPSs & frameworks side by side, so you can easily see the difference and identify which route is best for you.*
https://www.dropbox.com/scl/fi/0j35ycoz4s6kj2qkabfkx/Tussell-What-is-a-Pseudo-DPS-2023_07_19.pdf?rlkey=7c6thy3u2n7e3tnkkajacyit6&dl=0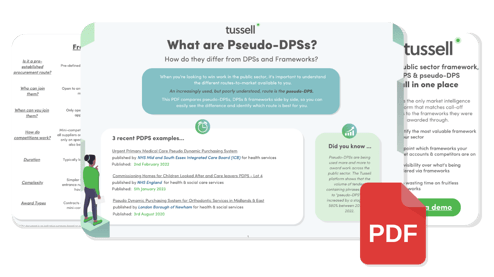 * It is important to note there isn't a published definition of what a pseudo-DPS is and how it works. Therefore, this document is an indicative summary based on our best understanding of pseudo-DPSs and should not be taken as legal or procurement advice. If you want to find out the specifics of a pseudo-DPS, you must contact the contracting authority that has published the notice, as each pseudo-DPS is different.
Tussell is the only market intelligence platform that matches call-off contracts to the frameworks or DPSs they were awarded under.
To see how Tussell can help you identify the work-winning frameworks in a matter of seconds, click here.