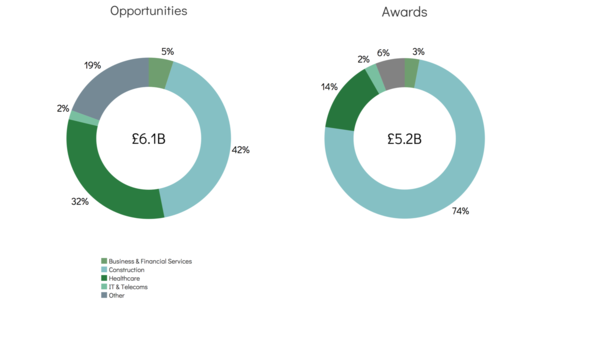 Last week's top tender opportunities
Tussell Partnerships
It's been an exciting week at Tussell, with three of our key research partnerships coming to fruition - read on for an update of what's been going on.
'Scaleups' in public procurement
We recently teamed up with the Scaleup Institute to help deliver the Procurement Index, assessing how the public sector is engaging with some of the fastest growing companies in the UK. These companies have won an average of 3.6 contracts per supplier in the past year.

This research fills the gap for evidence-based reporting on an exciting topic. A baseline now exists against which progress can be measured in the future. See the full research here.



Joint research with New Statesman Tech for GovTech summit
On Monday, NS Tech published our research into public sector tech procurement, revealing that the government's drive to break up massive tech contracts is starting to pay off. Our data shows that average tech contract value has decreased rapidly over the last three years. In a further sign of supplier diversification, SMEs have increased their market share in this sector from 9% in 2015 to 16% in 2018.
Tussell data powers Cyber Security Summit
One of the biggest tenders of last week was the £300m MOD Serapis Framework for Cyber Security-related services. The current prominence of Cyber Security in policy explains why we are sponsoring the Cyber Security Summit on Thursday. Gus, our founder, will be speaking on trends in Cyber Security contracting - for example the fact that data protection is a hot topic, mentioned in 20 contracts in 2018 compared to zero in 2015.