Tender value grows 26% year on year
In January there were 1,981 published tenders with an aggregate value of £19Bn. The volume of tenders was 13% higher than the same month last year and the value of tenders was 26% higher - driven mostly by a single Construction sector tender worth £8Bn..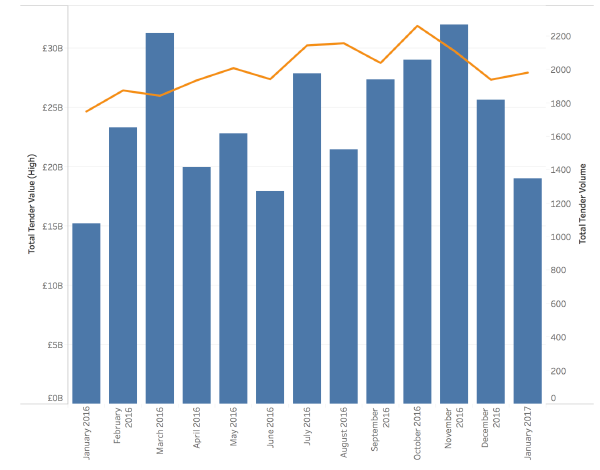 Construction sector tenders double since August
In January Construction continued to be the largest sector by value with £11.7Bn of tenders. In fact, the Construction sector's share of overall tender value has more than doubled from an average of 22% between Jan-Aug 2016 to an average of 45% in the five months since. This growth is driven by new housing and infrastructure tenders.

Value of contracts awarded is flat year on year
In December the value of contract awards was flat year on year at £12.8Bn even while the volume of awards reduced by 40% to 3,279 - indicating an increase in super high value awards.


The top 10 buyers account for 60% of total award value
In December The Ministry of Defense and National Procurement Group spent £2.5Bn through 79 awards, accounting for 19% of the total award value.

The top 10 suppliers account for 26% of total award value
In December The U And I Group won an urban regeneration and development award in Manchester worth £750M, accounting for 6% of total award value. Half of the top 10 suppliers won awards in the construction sector.


Local Gov't purchasing under continued pressure
In December Central Government was the biggest public sector category with £4.4Bn of awards. Local Government's share of overall award value has more than halved from an average of 43% between Dec 2015-July 2016 to an average of 19% in the last five months. The drop is attributable to a reduction in Construction activity at Local Government level.


SME award value drops by 5% after July
In December 2016 SMEs won 1,696 awards worth £3.2Bn. The proportion of award value won by SMEs dropped from 26% of the total between Dec 2015-July 2016 to 20% in the last five months. This trend is driven by a decrease in construction sector awards going to SMEs.
Wales continues to lead spending on SMEs in December
In December Wales awarded 82% of awards by value to SMEs – the highest proportion of "spending small" of any region in the UK.
The Government awarded £712M to its strategic partners in December
The Government's strategic partners have 3,312 contracts worth £679M due to expire in the next 12 months.