UK public sector procurement is changing.
"The end of the Transition Period provides an historic opportunity to overhaul our outdated public procurement regime." Lord Agnew
On 15th December 2020, the Cabinet Office published its long awaited Green Paper, 'Transforming Public Procurement'. The 82 page document sets out a whole host of proposed changes, from process to regulations, and everything in between.
Nearly a year and a half later, the Queen's Speech on 10th May 2022 confirmed the government's intentions to enshrine the Green Paper into law through a Procurement Bill during this parliamentary session. The Procurement Bill, the government argues, will create a "simpler and more transparent [procurement] system that better meets the country's needs".
In this article we look at the key takeaways from the Green Paper and consider the potential impact on suppliers to government once it becomes law.
Key Public Procurement Takeaways
1. Changes to Framework Agreements & Dynamic Purchasing Systems
There are some key changes to frameworks and DPSs proposed in the Green Paper, for example:
Framework agreements can only be closed for four years

A new type of open framework will be introduced lasting up to eight years, but will need to re-open to new entrants after the first three years

A new 'DPS+' will be introduced that can be used across all types of goods and services
So what does this mean for suppliers?

Most importantly, the changes should be seen as an attempt to open up these types of contract arrangements and avoid suppliers being locked out, as well as increasing innovation.
For suppliers wanting to win a place on framework agreements and DPSs, this is great news. On the other hand, for those used to winning work without challenge from the relative 'safety' of a framework, things are not so rosey. Frameworks are likely to remain an excellent route into the public sector, but you should expect the competition to be more fierce and change more frequently.
Did you know?
Tussell's Frameworks functionality will let you see all public sector frameworks and associated call-off agreements in one place.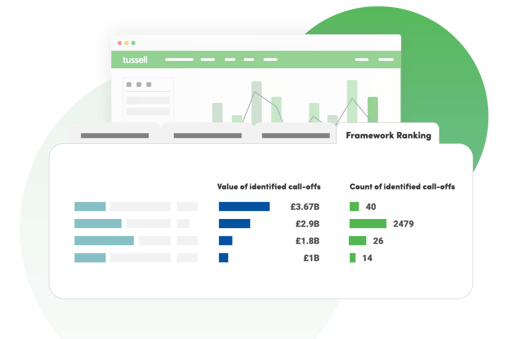 Make sure you're on the right frameworks and see what your competitors are doing in seconds. Click here to book your demo and grow your presence in the public sector.

2. A new 'evidence locker' aims to reduce admin burden
Anyone who's ever been involved in public sector bidding knows the pain associated with the repetitious submission of the same documents.
The government's SQ (or standard Selection Questionnaire), released in 2016, went some way to reduce the friction involved by helping suppliers create bid libraries that have answers to key questions on finances and past performance prepared in advance.
The idea of an evidence locker takes this to the next stage.
"The Government proposes establishing a single place for suppliers to submit the common data needed for procurements in an evidence locker to allow suppliers to 'tell us once' across the public sector. All contracting authorities would be required to use this data in their procurements." Page 57
The idea behind the change is a simple one and will be welcomed by all suppliers, the challenge will be ensuring adoption across the whole of the public sector.
3. Simplified procurement regulations and procedures are planned
"The Government proposes to comprehensively streamline and simplify the complex framework of regulations that currently govern public procurement." Page 7
As things stand, there is an extremely confusing list of same-but-different procurement regulations that cover distinct areas of UK public procurement.
There's regs for Defence, Utilities, Concessions contracts and the Light Touch Regime, as well as the core Public Contracts Regulations. Within each of these, there are also many different types of procurement procedure.
From the perspective of a data company like Tussell, the myriad of rules mean transparency can easily be compromised due to apparent 'loopholes' or special cases - so we welcome the changes, along with the proposals for further transparency, covered below.
While public sector procurement teams may find the nuances of new regulations particularly interesting, for suppliers, there's less to be excited about.
We recommend keeping your ears open about the changes - and getting up to speed on them quickly when they're confirmed - but in reality, the processes you go through are likely to feel very similar, although hopefully, a little less confusing.
4. Unified themes for all procurement projects
Social value has been a hot topic in public sector procurement for a while now.
The idea that contracts should not only deliver value for money but also do some good for the communities where they take place, is an important one. However, it's probably fair to say that the implementation of social value as a core theme in public procurement has been fairly inconsistent.
In the proposed reboot of UK public procurement, there's a focus on the idea of a 'golden thread' running through each and every programme, procurement and contract.
In simple terms, the golden thread means: the things the government really cares about. At the time of writing these are, for example:
"Boost growth and productivity"

"Help our communities recover from the COVID-19 pandemic"

"Tackle climate change" through Net Zero commitments
"We intend to legislate to require contracting authorities to have regard to the Government's strategic priorities for public procurement in a new National Procurement Policy Statement." Page 10
There is also a commitment to prioritise social value further with the idea of 'social value for money'.
Should these recommendations be taken forward, it will be critical for you to think about how you tailor your future bid submissions to include these themes, as well as creating the underlying data and evidence in your bid library to prove how you have delivered on these outcomes in the past.
Even before the changes come into effect (assuming they do), we recommend keeping the golden thread in mind during your conversations with existing accounts and new prospects in the public sector.
5. Contracts ring-fenced for British companies
In the US there is a concept called 'set-aside contracts'. This means the US government is intentionally reserving certain contracts for particular groups of people - for example small businesses or those owned by women or disabled veterans.
Until recently, no such provisions existed in the UK. The government does have a target to spend 33% with SMEs by 2022 (previously 2020), but this did not involve ring-fencing contracts until very recently.
The Green Paper confirms a policy change has already been implemented (as of December 2020), which enables an approach closer to the US system and appears to put British businesses first - something that was not previously happening during our time in the EU.
"We have already introduced a policy which will allow below threshold contracts to be reserved for UK suppliers which will come into effect at the end of the Transition Period. I want to use these further reforms to drive a culture of continuous commercial improvement across the public sector. This is good news for UK companies bidding for public sector contracts." Page 5
The procurement policy note suggests contracts can be reserved by geographical location AND/OR based on suppliers being an SME or a VCSE (Voluntary, Community and Social Enterprise).
As these changes only apply to 'below threshold' contracts - i.e. those that are lower value - it's unlikely to cause major concern for the biggest suppliers, who predominantly bid on large contracts. For smaller players from the EU and overseas, however, things might be about to get a lot more difficult.
Time will tell how much of an impact this policy will make, and indeed, the level that public sector buyers choose to use these new powers.
6. Increased transparency
It's reassuring to see transparency as a core theme in the Green Paper - particularly after the level of interest in COVID-19 contracts.
"The Government proposes legislating to embed transparency by default throughout the commercial lifecycle from planning through procurement, contract award and performance. Contracting authorities would be required to disclose procurement and contract data as soon as practically possible and significantly increase transparency in the public procurement regime." Page 50
With more transparency comes the opportunity to better understand public procurement and spending. As a result, government can achieve better value for money, and suppliers can develop solutions that provide a properly joined up approach that delivers the best outcome for UK citizens.
If better data is released on procurement plans and contract performance - as is proposed in the Green Paper - it will allow you to better understand the contracts you are best suited for and adjust your business development plans accordingly, meaning less waste and better ROI from your bidding efforts.
Finally, there is a desire to force public sector authorities to publish bidder identities, which will be a new requirement with interesting consequences for monitoring competition.
Whatever new data is made available, we'll be ready to incorporate it into our Tussell Insight market intelligence platform to ensure you are best placed to challenge for, and retain, key contracts with government.
In Conclusion
This article is only intended to provide an overview of some of the most salient points from the Green Paper. We highly recommend reading it yourself and, more importantly, keeping track of its journey through parliament and into law.
As with all aspects of public sector business development, take the time to plan ahead and consider how the changes will impact your current teams, services and strategies.

If you found this article useful, or you're interested in receiving the latest insight on public sector spend and contracting, sign up to the Tussell newsletter using the form below.
Receive free Tussell insights
Get the latest market updates sent straight to your mailbox