Friday 12th May 2017 was a bad day for the NHS and its patients…but it was also a catalyst for change. That was the day when the NHS was hit by the impact of the worldwide Wanna Decryptor ransomware attack. #CyberAttack began to trend.
Since January 2015, 50 cyber security tenders with a total value of £238M have been issued in the wider UK public sector. But 34% of these tenders – that's 17 tenders worth £60M – have been issued since the NHS cyber attack in May. This makes 2017 a record year in public sector cyber-security investment…by a wide margin.


Of these 17 cyber security related tenders, one stands out: NHS Digital's tender published on 25 November for building a Security Operations Centre for £20M. This tender alone represents 10% of the total value of cyber security tenders published across the UK public sector in 2017.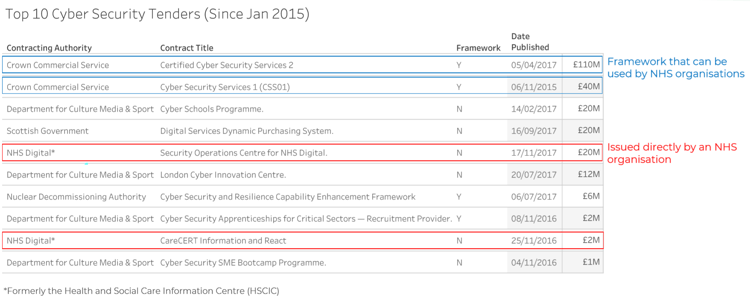 This tender propels NHS Digital to become the third largest public sector buyer of cyber security services in the last 2 years.



Based on this evidence, it's clear that the cyber-attack in May has sparked some welcome defensive action on the part of the public sector. Tussell expects this trend to continue as the threat of cyber attacks grows and we will continue to monitor this interesting topic.
Want to see which cyber security contracts are expiring in 2018, or be notified each time a new cyber security tender is published? Simply sign up to a free trial of Tussell Insight for the answers.
Tussell's data on cyber security procurement was cited by The Times on 27 November. Read the article.