Back in December 2021 we revealed the Tussell Tech200: a list of the 200 fastest-growing technology companies in the UK public sector.
One such high-riser is US software giant ServiceNow, providers of digital workflow and cloud solutions to thousands of organizations around the globe.
Having experienced a considerable 265% jump in public spend between FY2019/20 and FY2020/21,* we wanted to understand how they managed it, and what lessons they could impart to others wanting to do more business with the public sector.
We sat down with Kam Patel, Director of UK Public Sector at ServiceNow, to dig deeper into ServiceNow's public sector work over the Tech200 period, and understand how they were able to secure it.
🎙️ For those who don't know, what does ServiceNow do?
"ServiceNow is the fastest-growing enterprise cloud software company in the world.

Founded in 2004 with the goal of making work easier for people, ServiceNow is making the world of work, work better for people.

In short, we create digital experiences that help organisations work smarter, faster, and better."

🎙️ What are the main ways that ServiceNow works with the UK public sector?
"Sophisticated data use is central to the continued provision of modern government and healthcare services – but getting it right isn't easy.

We've seen governments and healthcare organizations accelerate their data usage faster than ever before to keep up with the needs of the public.

ServiceNow makes work, work better by creating custom workflow solutions across IT, HR, Finance, back-office and middle-office processes. We're already helping organisations improve operations, working at a pace that suits. We work in partnership with government agencies, offices and departments every day to improve the experience of the civil servant, deliver productivity and efficiency gains whilst making a positive impact on citizen services."
🎙️ What role does data play in your work with the public sector?
"As we enter the next phase of the pandemic, we're seeing a substantial rise in digital initiatives aimed at improving how data is shared. To be truly successful, interactions between patients and care providers must be fast and intuitive. Data needs to flow back to the NHS automatically so GPs can be proactive with the information; that data also needs to be readily accessible to everyone involved, but it needs to be stored safely at all times, too. Digitising processes, removing duplication and ensuring a clear and single view for the organisation is where we as ServiceNow can help."
🎙️ Looking back on the period covered by the Tech200 (FY2019/20 - FY2020/21), what were some of the major new work you undertook with the public sector?
"The period we are covering was a time we've never seen in recent generations. We knew about the pending departure of the UK from the EU, but we had no warning or future vision of the global health pandemic that struck at the same time. These macro trends caused huge changes to the way we lived, worked and interacted. We still feel those implications today.

COVID-19 wreaked havoc with international supply chains, but Great Britain perhaps felt the pain more acutely. Prior to the pandemic, the country had decided to leave the European Union, forcing British firms to fill out loads of customs paperwork to export and import goods with EU nations.

"There has been a confluence of events that has exposed the brittleness of supply chains," said Christian Benson, vice president of tax and international customs at Fujitsu.

Fujitsu has been using ServiceNow to ease the flow of goods between Northern Ireland and Great Britain. Even though Northern Ireland is a part of Britain, the province shares an island with the Republic of Ireland, an EU member.

The border between Ireland and Northern Ireland remains open, but certain goods passing from Northern Ireland to Britain must go through border checks. Benson said the Now Platform helped automate workflows relating to cumbersome customs paperwork.

For organisations in the UK public sector, the need for departments, offices and agencies to keep staff safe and protected whilst enabling them to work remotely to continue to serve citizens brought challenges that required an agile response. Customers have told us that projects which, before, would have taken years to plan and implement, were accelerated to delivery with a matter of weeks.

We could look to DEFRA, who brought six citizen-facing applications in-house to ensure it was ready to conduct business as usual as the UK departed the European Union. The agency implemented Customer Service Management (CSM) to connect different departments and processes to help ensure that issues were handled efficiently and proactively. In addition, CSM enabled DEFRA to function effectively through the COVID-19 restrictions. They increased their team of agent analysts by 40%, onboard all to the platform whilst working from home. "The CSM platform is virtually self-explanatory," says Ben Davies, APHA Service Desk Manager, DEFRA. "We had new agents up and running within the hour."

For the Department of Work and Pensions, we enabled the management of the redistribution of staff, policy changes for benefits and payments, record numbers of claimants and all the necessary digital changes needed to support remote working – at speed. Their 'Digi' chatbot and DWP Place IT Support solution, delivered by Service Now helped everyone work more effectively."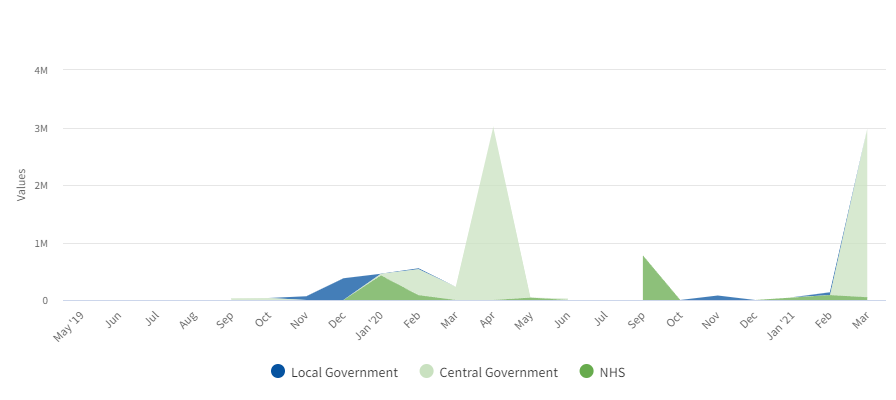 Using Tussell's market intelligence platform, we can see ServiceNow's jumps in spend from different areas of the public sector above.
The two spikes in April 2020 and March 2021 came from the Department for Work & Pensions.
🎙️ Diving into one of ServiceNow's most notable pieces of work over this period - your development of a vaccination platform for NHS Scotland - what approach, methodology or considerations did ServiceNow employ when deciding to pursue it?
"NHS National Services Scotland supports approximately 140,000 NHS Scotland staff who work across 14 territorial NHS boards, seven Special NHS boards and one public health body. Each NHS board brings healthcare – free at the point of delivery. It has been working tirelessly in the battle against COVID-19 and is managing the vaccine roll-out for Scotland's more than four million citizens.

The goal was to complete the roll-out quickly, but the program needed to be managed coherently. The most vulnerable demographics were to be vaccinated as a priority, but NHS Scotland wanted to allow for a degree of flexibility. It wanted to allow vaccination centers to create local stand-by lists, and for citizens to request individual time slots. For this to happen it needed data and digital workflows to be integrated, smart, and flexible."

🎙️ Why do you think ServiceNow was able to secure this work with NHS Scotland versus your competitors?
"NHS National Services Scotland was an established user of ServiceNow. There was a strong, trusting relationship already in place. In recent years NHS National Services Scotland had expanded its ServiceNow footprint from IT Service Management, through HR and Finance. During COVID-19, workflows have been built on the Now Platform to manage PPE tracking, contact tracing, and care home testing. The new vaccination management system was built in just six weeks, two weeks ahead of schedule. The build included NHS National Services Scotland engineers and ServiceNow experts. Capgemini, Atos, and KPMG all supported at different stages of Scotland's COVID-19 response."
🎙️ Looking across the whole period, why do you think ServiceNow experienced the high level of public sector growth that it did?
"During this turbulent time, ServiceNow did what we always do. We continued to focus on our customers, and the customers of our customers. We built on the strong, existing relationships we had in place with our UK public sector customers and worked, in a collaborative, agile and accurate fashion to continue to serve UK citizens."
🎙️ Based on this, what lessons have ServiceNow learned with how to engage and work with the public sector? How will this affect your approach working with the public sector going forward?
"The concerns we're hearing at ground-level from employees revolve around two things; speed and execution.
Failure on either or both of these measures results in sub-optimal services; long waits for hospital procedures, clunky paper-based processes, or delays to important applications. These ultimately leave citizens unsatisfied and public sector employees frustrated.
For the sake of our society, we need to ensure our public service can get jobs done quickly, and correctly.
However, we don't know what the future looks like, so it's important services are agile enough to cope with whatever is thrown at them, whether a sudden shift to remote working, brand new legislation or other."
*
ServiceNow's work with the public sector is representative of the resilience and innovation that characterised many of the Tech200 over the past few years.
To dig deeper into the Tech200's achievements and composition, check out our Tech200 Deep-Dive analysis; if you want to understand what the Tussell Tech200 is, read our introductory overview.
You can also read or listen to our Art and Science of Selling to Government chat with Kam, focusing on how you can overcome buyer fear and inertia in public sector tech sales.
To find out how ServiceNow can support and enable digital transformation in your organisation, please call freephone UK: 0800 640 8049, or visit www.servicenow.co.uk/gov
* This figure was calculated using Tussell's market intelligence platform, using publicly available procurement data. For more information on the methodology behind the Tech200 rankings, click here.
Receive free Tussell insights
Get the latest market updates sent straight to your mailbox