Telecommunications is a massively diverse public sector market, ranging from telephony and video conferencing products to internet service provision. Reflected in its complexity is the market's sheer size: from 2016-2021, public authorities spend £12.1 billion on telecoms-related goods and services.
If you want to expand your presence in this burgeoning sector, you'll need to understand the lay of the land.
We've teamed up with our IT service and connectivity expert partners at Exponential-e and Gamma to produce this run-through of the public sector telecommunications sector, including its latest trends, advice on how to get ahead, and reflections on how the sector might change in the years ahead.
Skip ahead to read about:
A little about our partners:
Exponential-e is an award-winning connectivity and IT service provider based in London, Chippenham and Manchester, with over 650 personnel. In their own words, they provide "flexible, citizen-focused solutions for healthcare, central and local Government, blue light, and educational institutions…through a deeply consultative approach" in the public sector.
Gamma is "a leading provider of Unified Communications as a Service (UCaaS) in the UK, Dutch, Spanish and German business markets, supplying communication solutions directly to Enterprise customers and the public sector, as well as via our extensive network of trusted channel partners".
What does the public telecoms market look like today?
Invoice data from Tussell's market intelligence platform shows us that the public sector telecoms market has never been bigger: in 2021 alone, public authorities spent approximately £2.3 billion on telecoms goods and services*.
This represents a sizeable 53% growth in spend since 2016, with the market growing - on average - 7.4% per year.
Below is a breakdown of the largest buyers and suppliers of telecoms goods and services, by total invoice value, across the period:
Top buyers:
| | | | |
| --- | --- | --- | --- |
| Contracting authority | Organisation type | Total spend | Top supplier |
| Home Office | Central Government | £145m | EE Ltd |
| Ministry of Defence | Central Government | £122m | Leonardo UK Ltd |
| Transport for London | Devolved Transport | £519mn | Citylink Telecommunications Ltd |
| Ministry of Justice | Central Government | £474mn | Vodafone Ltd |
| Department of Health and Social Care | Central Government | £461mn | Airwave Solutions International Ltd |
Top suppliers:
| | | |
| --- | --- | --- |
| Supplier | Total spend | Top customer |
| British Telecommunications Public Limited Company | £1.79bn | Ministry of Defence |
| BT Global Services Ltd | £1.39bn | Department for Work & Pensions |
| Vodafone Ltd | £1.29bn | Ministry of Justice |
| Leonardo UK Ltd | £864mn | Ministry of Defence |
| EE Ltd | £667mn | Home Office |
* Throughout this blog, supplier invoice data was included based on their SIC code, meaning this analysis may include some anomalous, non-telecoms related data.
How did the COVID-19 pandemic affect the landscape?
The growth of the telecoms market may, in part, lie in the demands for greater connectivity and remote working prompted by the COVID-19 pandemic.
As James Bennett, Gamma's Business Development Manager, observes: "The pandemic undoubtedly accelerated tech adoption across all sectors. For public sector organisations, this has meant a higher adoption of unified communications and collaboration tools to enable remote and hybrid working." Conversely, "as a consequence of UC solutions becoming more popular, on-premises solutions are starting to disappear in favour of cloud-based ones."
The pandemic, in particular, exposed the inadequacies of legacy infrastructure; "in a very short space of time, the NHS and other public sector organisations needed to access and analyse data on the COVID history and status of millions of individuals, meaning any shortcomings in the legacy infrastructure quickly revealed themselves", argues David Lozdan, Exponential-e's Head of Public Sector.
The pandemic, unlike any other event in recent history, forced public authorities to reconsider how they operated, and adopt new ways of working. In essence, it pushed forward many trends that had been unfolding for years. As Sam Winterbottom, Gamma's Public Sector Director, notes, the pandemic accelerated the "ongoing public sector programme to reduce property footprint, to save costs among other reasons, but also to empower employees to work from anywhere and to simply 'lift and shift' that working environment to the cloud".
Who is driving spending on telecoms?
Breaking this spend down by buyer category, the proportion of spend on telecoms from different areas of the public sector has remained fairly stable.

Central Government Telecomms spending was by the far the biggest spend category every year. Proportionally, Central Government increased its spending on telecoms goods and services across the period, increasing its market share from 53.8% to 66.3%, whilst Local Government spending was reduced from 38.7% of the market to 22.1%.

The reasons behind this shift in spend are multi-faceted, with each sector - and authorities within each sector - experiencing unique challenges. Exponential-e, for example, provided over 60% of London's NHS bodies with HSCN connectivity during the COVID-19 pandemic: "this proved essential throughout the rise of COVID-19, where close collaboration between our teams and London's NHS organisations ensured were able to continue tending to their patients while still respecting social distancing requirements."
To learn more about Exponential-e's work to digitally transform the public sector, click here.
Looking to the future, this is something that the telecoms sector will need to accommodate across all areas of the public sector: digital adaption. James from Gamma argues that: "there's now a necessity for these solutions both from a productivity point of view, but also to enhance employee wellbeing and support talent acquisition, especially amongst the younger generations".
Which frameworks are authorities turning to?
Getting onto the right framework is a critical route-to-market into this sector: if you're not on the frameworks your target accounts are using, you risk being excluded from new work.
Gamma's Sam lays out the implications: "Regardless of how good a solution or a supplier might be, if they're not on the right procurement route and frameworks, they won't be able to reach that public sector audience."
The pressures that Brexit and the COVID-19 pandemic have placed on public authorities have only heightened the need to harness tools like frameworks. Procurement teams, more now than ever, know they need to operate transparently while also delivering value for money. "As a result, suppliers must ensure that they can readily demonstrate their capabilities to procurement teams through the appropriate channels – particularly the frameworks utilised by the public sector for this purpose", argues Afshin Attari, Exponential-e's Director of Public Sector and Unified Platforms.
Understanding the frameworks used within the telecoms sector allows you to prioritise which ones are worth targeting: which frameworks are used regularly in this sector? Which frameworks are your competitors on? Which frameworks do your target accounts regularly utilise? You can answer these questions through the insights provided on the Tussell platform.
Tussell's frameworks analytics show that of the telecoms contracts awarded from 2016 - 2021, at least 3,841 - or 34.5% - were call-offs from a framework. These contracts represent a staggering £6.47 billion of potential value!
By total call-off award value, we identified the most valuable telecoms frameworks as:
By total call-off award volume, the most frequently used telecoms frameworks are:
How are SMEs fairing?
The drive to promote social value through procurement means contracting authorities are putting a more concerted effort into including SMEs in their supply chains.
In the telecoms market, Tussell's data clearly indicates these efforts are paying off.
From 2016 - 2021, the proportion of total telecoms-related spend that went to SMEs has increased from 8% to 15%, totalling roughly £200 million in 2021.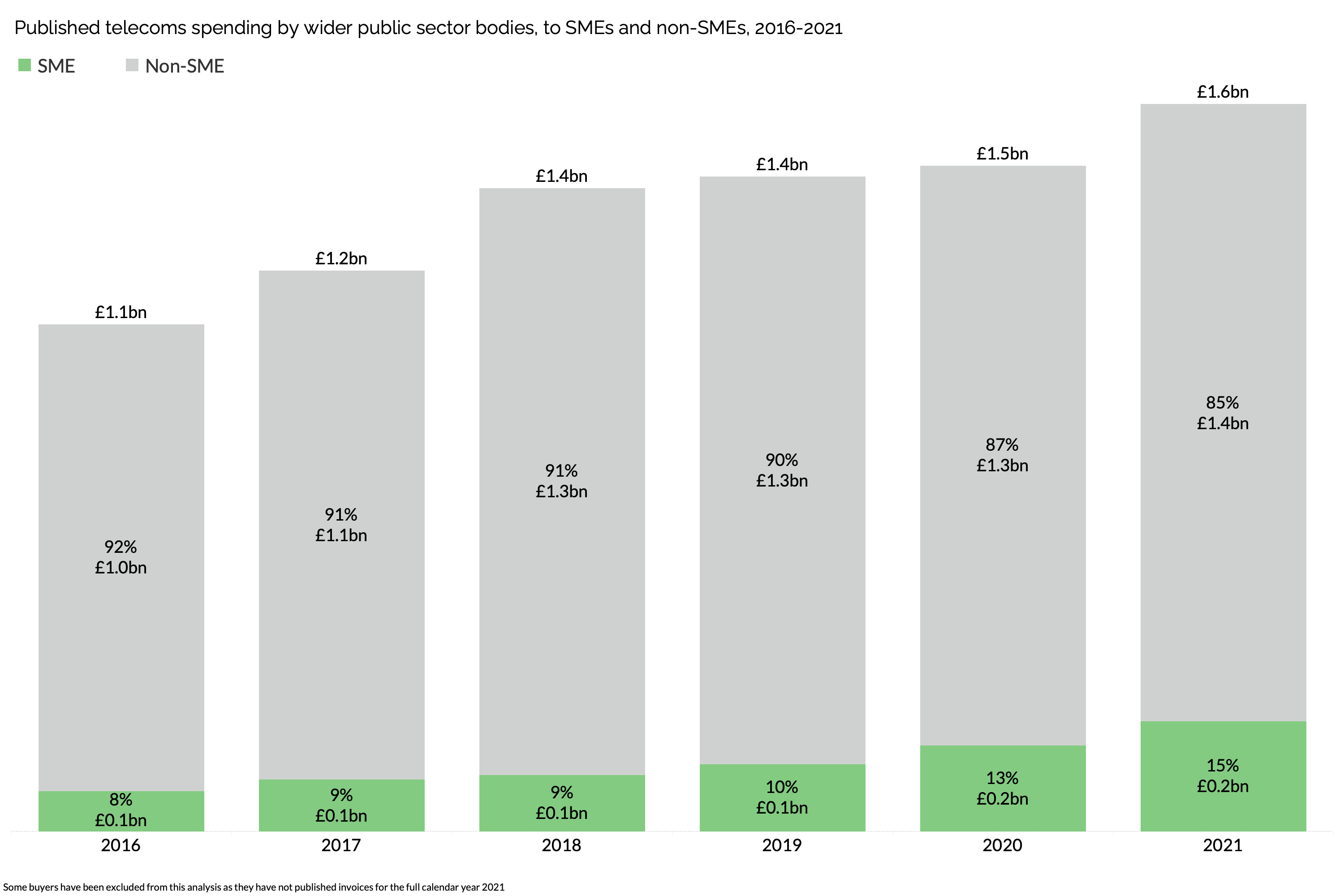 Breaking this spend down by region, every English region saw an increase in spending with telecoms SMEs across the period. Authorities in the South East, in particular, saw their share of spending with telecoms SMEs increase from just over 10% in 2016, to 30% by 2021. Authorities in London proportionally spend the least out of all English regions with telecoms SMEs, representing just over 10% of total telecoms spend in 2021.

Government telecoms spending with SMEs also increased from 2016-2021 quite drastically, with the Department for Work and Pensions (DWP) increasing its telecoms spending with SMEs by 1101%!* Similarly, the Home Office increased its telecoms spending with SMEs by 251% and the Ministry of Defense (MoD) increased its spending by 195%.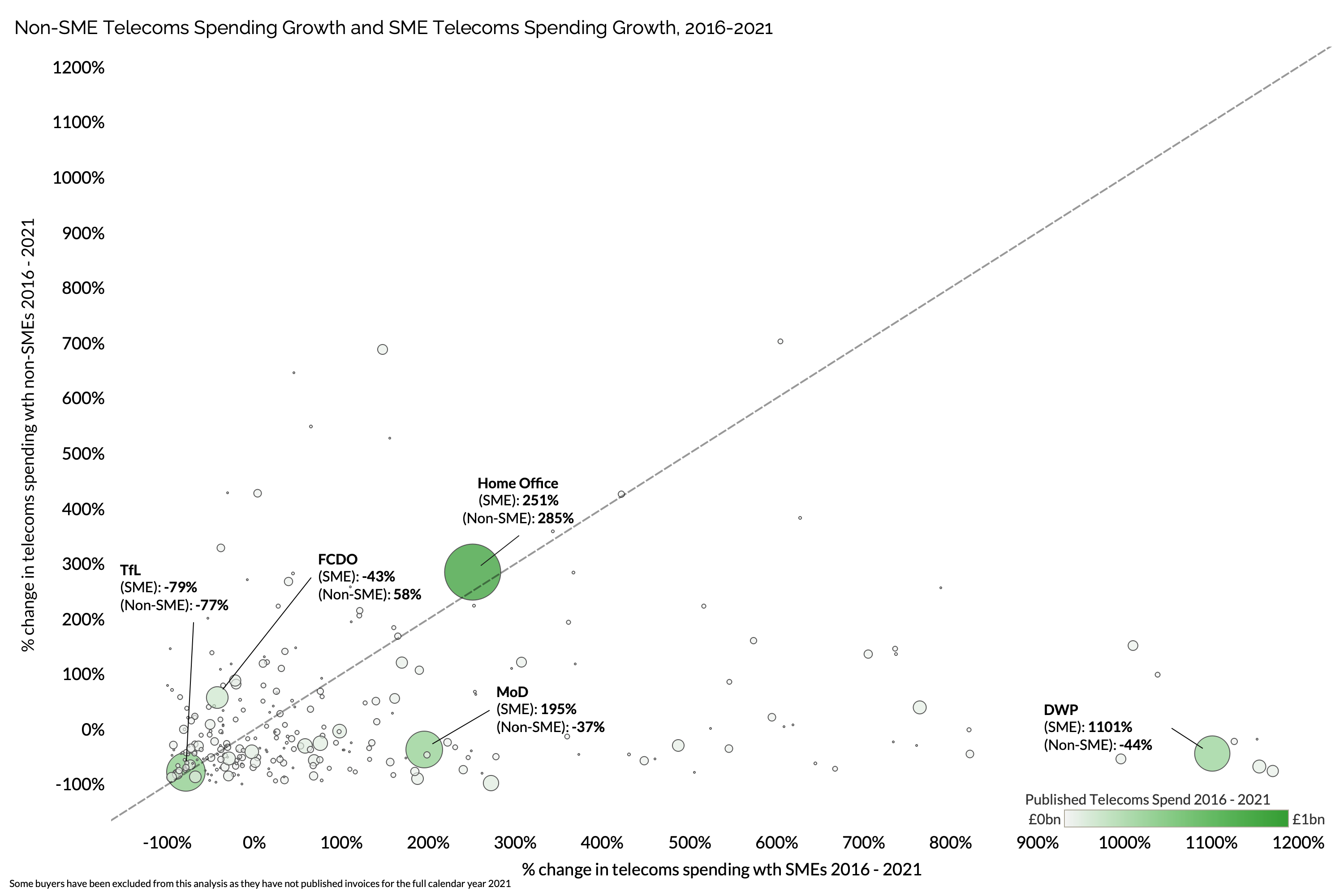 If you're an SME looking to expand your presence in the public sector marketplace, have a read of our step-by-step SME public sector guide.
What are the keys to success in this marketplace?
Having the data on your side is one half of the equation to expanding in the public telecoms market: you also need to adopt best practices, prioritise correctly, and avoid the common pitfalls suppliers encounter on their journeys.
Be bespoke, and draw on your successes
"Having worked with a wide range of public sector organisations over the years, we believe the most important aspect to succeed is providing the best possible guidance and considering a number of different options to meet needs, challenges and requirements", argues Gamma's James.
In Gamma's experience, many a telecoms supplier has faltered by presuming the needs of a public authority, or painting them all with the same brush. "Too often these suppliers come into the fold with a pre-ordained idea of the most suitable products or services, completely failing to take into consideration and uncover the customer's key objectives. "
Gamma's work with the Greater London Authority provides an excellent case study of how you should approach contracting authorities. As James explains:
"[The GLA had] recently relocated to a new City Hall building in the Royal Docks" and "went out to tender for an entirely new telecoms infrastructure". Gamma's bid "was praised for its well-written documentation and how clearly it was all laid out, but ultimately it all came down to scoring on multiple different factors and we consistently scored highest of all."
Ultimately, the deployment "was a success and took into account the GLA's specific requirements and needs in order to deliver a solution that would enable them to achieve their desired outcome".
Gamma's Sam argues that documenting such successes is key to securing work in the future: "a lot of these organisations will want to look at use cases, case studies and real-life scenarios before moving forward. We can draw on a number of examples and help these organisations make the right connections and choices for their specific challenges."
To learn more about Gamma's digital solutions for the public sector, click here.
Turn to the experts
The stakes are often much when delivering infrastructure or network changes for a public sector client compared with a private sector one.
The risk of getting things wrong, argues Exponential-e's Afshin, means you shouldn't shy away from asking for help from others who have more experience in delivering public sector projects:
"Suppliers should be willing to employ technical experts who are cognizant of the public sector's unique digital challenges, and be willing to tailor their solutions around this, drawing on the learnings of previous projects whenever possible, particularly when it comes to the sector's strict compliance requirements and the need to guarantee the security of confidential data in an increasingly complex cyber threat landscape."
Ultimately, it's very difficult for a supplier to re-gain a foothold in the public sector if they have delivered a solution poorly in the past. Contracting authorities must have complete confidence in you:
"Ultimately, it's about providing public sector organisations with complete peace of mind, allowing them to focus on the delivery of critical services across the country. In a rapidly changing digital landscape, flexibility and agility will of critical importance, as organisations will require evidence that their technology partners will not just be able to fulfil their short-term goals, but be on-hand as citizens' requirements evolve, ensuring IT infrastructure continues to support them."
Frameworks, frameworks, frameworks
The importance of getting onto the right framework cannot be understated if you want to succeed in this market.
As Gamma's James observes: "one of the most common mistakes is simply not being on the right frameworks or procurement routes – it just cuts off many options for suppliers as only the ones on these frameworks are considered during the tender/bid process."
There are a host of frameworks for you to choose from. "The DOS framework", explains Exponential-e's David, "helps connect public sector organisations with suppliers who can demonstrate specialist digital knowledge, accredited skill sets, or relevant experience as part of the standard tendering process. In contrast, G-Cloud is particularly useful both when Cloud-based services and skills are required on a pay-as-you-go basis, and when a formal, structured tendering processes is not necessary."
Getting onto the right framework is only the first half of the story. Once you're on your desired framework, you need to ensure you're advertising your presence, and doing so accurately. As David explains:
"Some suppliers provide an agile approach to deploying skills, teams, and experts who are focused on delivering tactical project support or short-term services. Others are more suited to longer-term contracts with defined KPIs, service level agreements and outcome-based deliverables" - "suppliers should therefore be 100% clear upfront which approaches they can offer when advertising on the digital marketplace".
What does the future have in store for public sector telecoms?
Looking to the future, it is evident that there is a need for vast digital adaption within the public sector - something which both Gamma and Exponential-e commented on.
As Afshin at Exponential-e explains: "The chance to digitise existing processes, introduce new ones, and create new pathways promises to markedly improve the sector's desired outcomes, which have largely remained the same since the very dawn of public service". In turn these updates and restructurings will be able "to support wellbeing, advance economic prosperity, and increase the efficiency of operations."
Gamma sees "five technologies that we believe will create important opportunities for the public sector in the coming years": 5G, both in its opportunities for local government for infrastructure and hyperconnected cities, but also enabling continuous streams of high-quality audio (AR) and video (VR). Alongside this, developments in blockchain and the adoption of cloud-based communications tools will continue to have a huge impact.
The impact of Brexit is still being felt across the procurement world and highlighted the need for an overhaul. Exponential-e noted that "there was a need to tidy up the procurement process for the public sector and simplify it as much as possible in order to open up opportunities to more suppliers." Similarly, Gamma considered the impact of Brexit on organisations, adding that "organisations must be conscious of how Brexit's impact on procurement will affect the market, as a keen understanding of the new processes for engaging with suppliers will be critical if organisations are to establish long-lasting relationships with the right technology partners."
A final thing to keep an eye on is the Procurement Bill that is currently in the House of Lords. This Bill "will enable the creation of a digital platform for suppliers to register their details once for use in any bids, while a central online transparency platform will allow suppliers to see all opportunities in one place". In turn, this will lead to accelerated spending with SMEs and increased transparency in the procurement sector, as well as creating a more competitive tendering process.
*
Never before has the need for public authorities to become better connected, work more efficiently and operate more flexibly been more pertinent. If you're a telecoms services provider, there's never been a better time to enter this ever-growing marketplace - just be sure you heed the advice of the experts above.
If you want to make in-roads into the public telecoms market, you'll need hard data on your side to decide who to target, know who you'll be up against for opportunities, and what the best routes-to-market for your business are. With Tussell, you can analyse public spend, contract awards, favoured frameworks and more, helping you make more informed decisions and strategies when selling to the public sector, at any time.
Book a personalised demo with our team to see how Tussell can unlock public sector insights and opportunities for your business.
To learn more about our partners, check out Gamma and Expontenial-e's websites.
*
* Network Rail is excluded because their invoice data is not available from 2016. The Department of Health and Social Care is also excluded because of the massive increase in spending over the pandemic.