The public sector consultancy market has never been stronger: in 2021 alone, over £2.5 billion worth of consultancy contracts were awarded by public bodies - a record high.
Opportunities are rife for consultancy suppliers: concurrently, the need to truly understand the consultancy market is ever more pressing for hopeful suppliers.
Taking a look back at the past few years, how has the public sector consultancy market changed? Who's ascended to become its top players, how have SME consultancies faired, and which avenues have proved most lucrative for consultancy suppliers?
Using data from our public sector market intelligence platform, we've analysed the state of the public sector consultancy market from Q1 2016 to Q4 2021 to answer these questions and more, giving you the latest picture of this massive public sector market.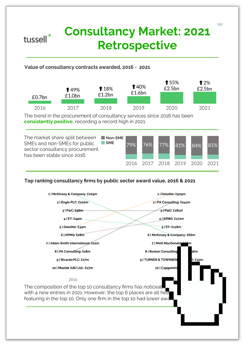 The condensed findings of our analysis can be freely downloaded here.
Our key findings:
From strength to strength
Our platform indicates that the public sector consultancy market has consistently grown year-on-year, with annual consultancy contract award value rising from £0.7bn to £2.5bn between 2016 to 2021.
Notably, a 49% rise in total award value between 2016 and 2017 stemmed largely from Brexit-related consultancy contracts, while an ever steeper jump of 55% from 2019 and 2020 came with a surge in demand for consultancy services amidst the COVID-19 pandemic.
With the pandemic's continued presence into 2021, annual contract awards remained at 2020 levels: whether this flatline continues with the 'return to normal' in 2022 is one to watch out for.
Who are the top consultancy players?
The composition of the top 10 consultancy firms – by total contract award value – has shifted quite drastically between 2016 and 2021.
6 firms who inhabited the list in 2016 have retained a top 10 spot in 2021: Deloitte, PA Consulting, PwC, KPMG, EY and McKinsey & Company. They are joined by 4 new entrants: Mott MacDonald, Boston Consulting Group, Turner & Townsend Ltd and Capgemini.
Deloitte secured the top spot in 2021, having risen from 5th in 2016 (£34m annual contract value to £505m); the firm which saw the biggest jump across the period was PA Consulting, climbing from 8th to 2nd place (£18m to £241m)
While much has changed at the top, the same can't be said for the position of SME consultancy firms. The market share split between SMEs and non-SMEs for consultancy procurements has flatlined, with 79% and 81% of consultancy contracts being awarded to non-SMEs in 2016 and 2021 respectively.


Which frameworks are the most lucrative?
Frameworks are proving an increasingly lucrative source of consultancy contracts for hopeful suppliers.
In 2016, just 4% of £0.7bn worth of consultancy contract awards were call-offs from a framework; in 2021, 48% of the £2.5bn awarded were call-offs. Notably, 2020 was the first year in which the majority of the value of consultancy contract awards – 55% - came from call-offs.
Using Tussell's frameworks coverage, it's clear that one particular framework has proved the most lucrative for consultancy contracts: Management Consultancy Framework 2. Since 2016, at least 582 consultancy call-offs were awarded via MCF2, at a total value of £1.2bn.
Notably, fewer consultancy-specific contracts were awarded via MCF2 than the G-Cloud series, at 636 consultancy call-offs since 2016. These call-offs summed at a much lower total value, however, at £492m.
Our analysis clearly indicates that the most valuable frameworks for consultancy suppliers specialised in either management consultancy or IT services. Nevertheless, that frameworks are providing consistently regular, valuable opportunities for all sectors of the consultancy market is a salient takeaway for consultancy suppliers as a whole.
*
To dig into the stats behind these key takeaways, download our overview factsheet here.
If you want to get a deeper understanding of the consultancy market within Central Government, you can also download our Central Government Consultancy Procurement report from October 2021.
To see how Tussell can help you find new consultancy opportunities in the public sector, book a personalised demo of our platform with our team.
Receive free Tussell insights
Get the latest market updates sent straight to your mailbox