This report looks at what the public sector has been buying to support its response to the pandemic. Enter your details below to download the full report, or see the latest updates relating to Covid-19 on our contracts tracker page.
UK public sector procurement is showing tentative signs of recovery, with 18% more opportunities published in May than the month prior.
The government has also started to reveal the extent of its Covid-19 response procurements, publishing nearly 400 contracts worth over £1.7bn.
At a time of crisis, accurate and reliable real-time data matters more than ever. This is the third report in our monthly series tracking the impact of Covid-19 on UK public procurement. In this edition, we are focusing on the companies – established and new entrants – that are supporting the government's response to the crisis.
Key Findings:
18% increase in number of invitations to tender (ITTs) published last month

£1.7bn worth of Covid-19 response contracts published to date

A quarter of Covid-19 response contracts awarded to new suppliers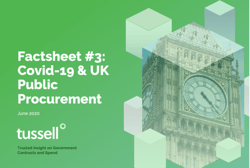 Enter your details below to get the full report sent straight to your inbox.
Send me the full report
Get the PDF report emailed straight to your inbox