With the end of the transition period fast approaching, there's also an important change to finding UK tenders - the introduction of the government's new Find a Tender service (FTS).
This means that all tenders (or contract notices) that were previously advertised via the Official Journal of the European Union (OJEU), will now be published in the FTS portal instead.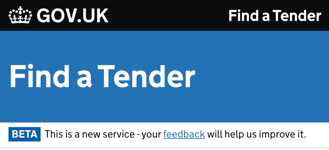 A holding page for the beta version of the website is already online at https://www.find-tender.service.gov.uk/.


When does it launch?
23:00 on 31st December 2020 - or in other words, at the end of the Transition Period, following Brexit.

What can you expect from the service?
If you're familiar with Contracts Finder, the UK government's existing portal for tenders and contracts awards, you can expect something very similar in terms of functionality and interface. In fact, if you're a registered user of Contracts Finder you'll be able to use the same credentials to log in to FTS.

What does this mean for you?
If you're currently monitoring Contracts Finder and OJEU (as well as many other local portals), the bad news is you'll need to keep monitoring those in addition to the new Find a Tender service. This is because OJEU will still be used in the following situations:
where a tender has already been released and the procurement is in progress (the related contract award notice will need to be published on OJEU too); and
for framework agreements: any mini competitions or call-off contracts published in relation to a framework previously published on OJEU, will also need to be published there.


How can you save time?
If you're currently monitoring numerous tender websites, you may want to consider using a platform like Tussell that combines contract notices from all of the major portals, saving you time and money.
Our team has already made the necessary updates to Tussell's platform to ensure our customers see notices published on Find a Tender from day one of its launch - as well as notices from Contracts Finder, Sell2Wales and Public Contracts Scotland, plus more than 70 local portals.
To learn more about how Tussell can save you time finding tenders, or more importantly, how to use our market intelligence platform to get ahead of the competition before a tender is even released, click here for a demo.



What other changes can you expect in procurement, following Brexit?
Aside from the introduction of Find a Tender, you should find things fairly similar in terms of the procurement process itself. This is because the UK is broadly continuing to follow the same procedures as it did while it was a member of the EU - for the time being at least.

For the latest insight on public sector procurement following Brexit, sign up to the Tussell newsletter below.
Receive free Tussell insights
Get the latest market updates sent straight to your mailbox