Since Tussell's reporting of Computacenter's addition to the government's list of Strategic Suppliers back in October 2020, two companies have re-entered the exclusive club: BAE Systems and Thales.
BAE and Thales join a list of 38 companies - all of whom can be found in Tussell's Strategic Suppliers report - deemed to provide strategically crucial products and services to the government. Though both companies have been included on the list before, becoming a Strategic Supplier is a major step for any company. Unrivalled government access and networking on the one hand comes with more scrupulous oversight and responsibility on the other.
This blog lays out the histories, accomplishments and potential fate of the list's newest entrants.
What is a Strategic Supplier?
Put briefly, a Strategic Supplier is a supplier to the government whose provided goods or services are deemed important enough by the Cabinet Office to warrant a more centralised, hands-on approach to managing procurement with them. The government typically spends over £100 million with these suppliers, and, from 2011, allocates a 'Crown Representative' with each to act as a focal point for communications.
For a deeper dive - and to see an analysis of the 38 other Strategic Suppliers - see Tussell's latest report on Strategic Suppliers.
Who are they?
BAE Systems PLC is a British multinational defence, aerospace and security company based in London. It is the largest defence contractor in the UK by sales, and the 4th largest globally as of 2019.
BAE Systems was formed in 1999 after the acquisition and merger of Marconi Electronic Systems by British Aerospace. It employs approximately 34,800 in the UK, and just under 90,000 people globally across 40 countries.
How do they fare in the public sector?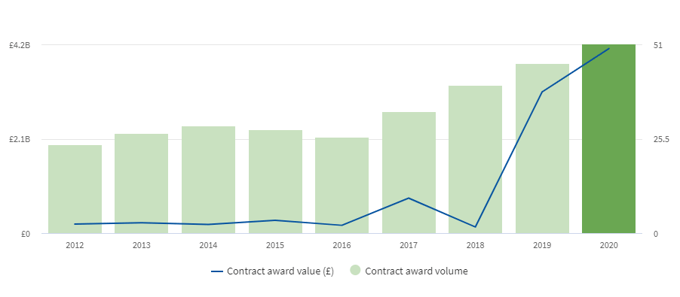 Tussell's database shows that from 2012 - 2020 BAE entities have been awarded over £9.24bn across 304 contracts.
Though BAE have contracted with 25 different buyers, 99% of their awards by value came - unsurprisingly - from the Ministry of Defence. Their most valuable contract - providing "supply and in-service support of a range of general munitions" until 2037 - is valued at £3.4 billion.
Other notable contract wins have included:
Who is their Crown Representative?
As of writing, Michael Keegan is responsible for BAE Systems in the Cabinet Office.
According to Michael's LinkedIn page, he also serves as the Non-Executive Director of IT firm Centerprise International and is the Vice President of the trade association techUK.
Why did they become Strategic Suppliers again?
BAE Systems had already been designated a Strategic Supplier from - at least - September 2015 to January 2018.
The reason for their removal is unknown, but reasons for their re-designation are clearer. BAE was awarded over £4 billion in contracts in 2020 alone, with the aforementioned £3.4 billion Next Generation Munitions Solution contract - their most valuable contract to date - being awarded in December. Their second most valuable contract - service support for Hawk T Mk1/1a and Hawk T Mk2 aircraft - was awarded the year prior, at £1.6bn.
With a long history of providing vital, high-value products and services to the government, BAE's re-designation as a Strategic Supplier feels more a formal recognition of an already deep relationship.
Who are they?
Thales is a French multinational company specialising in electrical systems, aerospace, defence and security, headquartered in Paris. In 2017, Thales ranked 8th by arms sales globally.
Thales employs around 6,500 people in the UK, and over 80,000 worldwide across 68 countries. In 2017, Thales exported over £560 million worth of goods and services from the UK.
How do they fare in the public sector?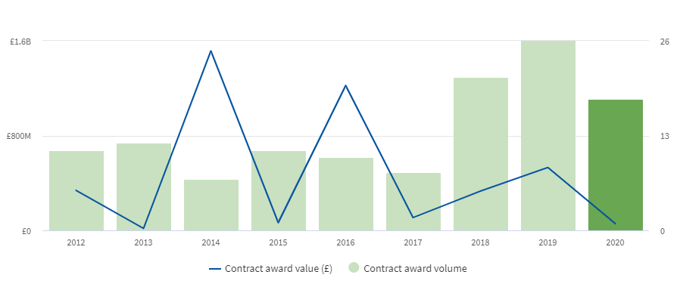 Our database indicates that the Thales Group has been awarded approximately £4.18 billion across 124 contracts from 2012 - 2020.
Like BAE, Thales have worked predominantly with the Ministry of Defence, winning £2.5 billion worth of awards over 88 contracts. Thales have also been awarded £1 billion by Transport for London over 5 contracts.
Thales' largest contract - awarded to the now dissolved 'Thales One Limited' - entailed the "design, procurement and installation of military air traffic management capability" for the Ministry of Defence in 2014, valued at £1.5 billion.
Other notable contracts include:
Who is their Crown Representative?
As of writing, Paul Jaques is responsible for Thales in the Cabinet Office.
According to Paul's LinkedIn account, he has served as the Master General of the Royal Electrical and Mechanical Engineers since 2017, and previously worked as Defence Equipment & Support's Chief of Materiel Land.
Why did they become Strategic Suppliers again?
Like BAE, Thales are not complete newcomers to the Strategic Suppliers family. Thales were included on the list in 2012, before being removed sometime before 2014.
Why Thales were readded this year is difficult to discern. Tussell's database does not show a recent spike in government awards going Thales' way. This may be due to the inherently secretive nature of many defence and intelligence contracts, which are often not published. Thales could have recently scored a major contract with the MoD, warranting a closer relationship with the Cabinet Office - but without the contract(s) being published, it's impossible to say for certain.
Again, Thales' long history with the government means its reintroduction to the Strategic Suppliers' group is not wholly unsurprising, nor is it likely to significantly alter their already entrenched relationship.
Conclusion
The reintroduction of these defence giants to the UK government's Strategic Suppliers list is not overly shocking: both supply billions of pounds worth of strategically vital products and services to the government, and already possess deeply cultivated, long-standing relationships with key buyers and stakeholders.
Though undoubtedly a prestigious and coveted label, BAE and Thales' re-designation as Strategic Suppliers seems to be external confirmation of the two's already deeply rooted place as key government suppliers.
To understand the other 38 Strategic Supplier's relationship with the government - including their major contracts, their total award amounts, and their Crown Representatives - read Tussell's analysis on the Strategic Suppliers.
Receive free Tussell insights
Get the latest market updates sent straight to your mailbox