On 29th October 2020, the Cabinet Office announced that Computacenter, which provides a range of IT hardware and software services, had become the government's newest Strategic Supplier - a change that is likely to disrupt the public sector technology market.
It joins 35 other companies as one of the government's most strategically important suppliers - something we predicted in our 2020 report on the firms, which highlighted Computacenter as the most likely technology company to gain strategic status.
Strategic Suppliers are companies which earn more than £100m from the government - a feat this newest entrant achieved in Q2 2020 alone.


A successful Strategic Supplier: Computacenter's public sector revenues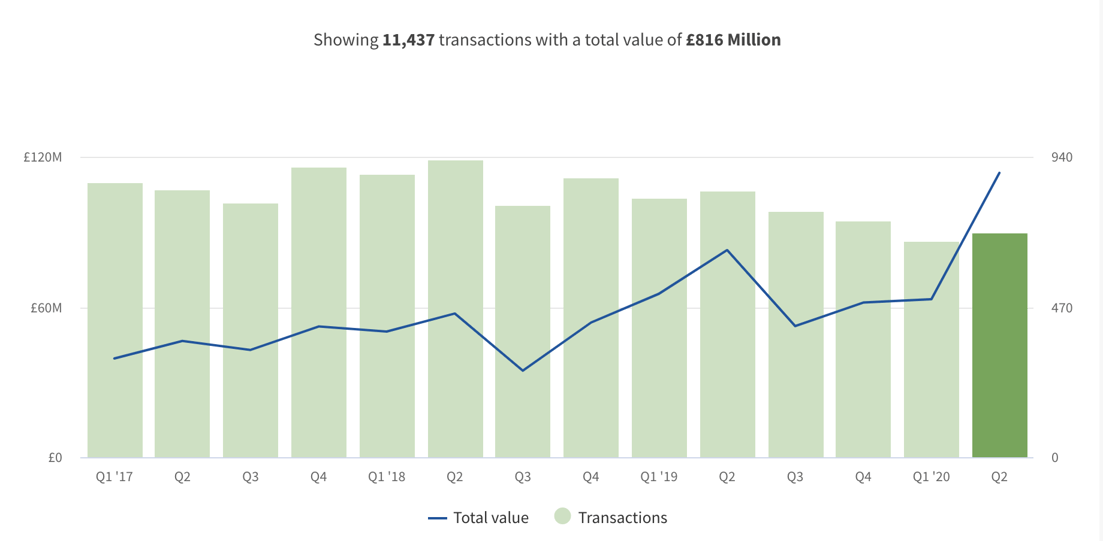 Tussell's database of public sector invoices shows that Computacenter has achieved relentless growth in its government revenue. According to over 11k invoices paid to the firm by Central & Local Government and the NHS, it has achieved 145% revenue growth in just three years.
Like many tech companies selling into the public sector, it has seen particularly impressive growth during the pandemic. Computacenter won a £60m contract from the Department for Education to provide laptops and tablets to disadvantaged children studying from home.
The company also considerably grew its footprint at the DWP in 2020 - earning nearly the same from the department in the first half of 2020 as it did in the whole of 2019.


Where has this growth come from?
Increased Central Government & transport sector revenues have driven Computacenter's considerable growth since the start of 2016, while revenues from the wider public sector have been flat.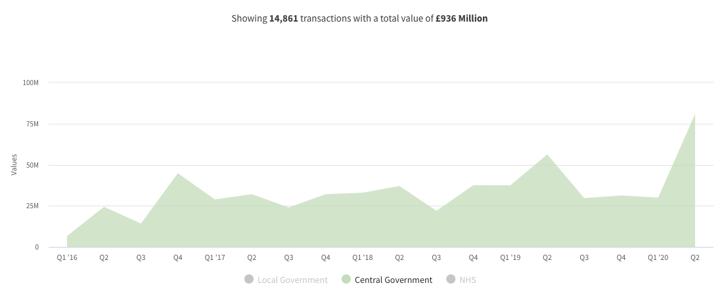 Top 5 public sector customers (based on 2019 revenue)
Department for Work and Pensions (DWP)
Network Rail
Transport for London
Foreign, Commonwealth and Development Office (FCDO)
Home Office
Nearly three quarters of the firm's 2019 public sector revenue came from the above five government bodies.
Notable contract wins
£18m for Desk-Side Support Services - TfL

£50m for 'CIS 2 Janus Project from Discovery Stage' - DWP
Now Computacenter is a 'Strategic Supplier': what will change?
Becoming a Strategic Supplier is likely to mean at least two key changes for Computacenter:
Their earnings and potential risk exposure to the government will be managed in a more proactive and comprehensive way


They will have their own 'Crown Representative', which means their relationship will be managed more strategically
Does this always mean more growth?
You might assume that being a Strategic Supplier to government would guarantee you'd earn more money from the public sector, but this isn't always the case.
In fact, our latest report shows that 23 of the 35 strategic suppliers saw reduced revenues from the public sector in 2019 compared with 2018, although combined spend still accounted for 22% of the £14.7bn annual public sector total.
It's important to understand that working more closely with government - or any purchasing organisation - has benefits and drawbacks. Procurement teams want to keep strategically important suppliers close to manage their risk exposure, while getting maximum benefit and innovation from the relationship.
However, this is often balanced with more onerous reporting and monitoring requirements to ensure the supplier's footprint does not experience uncontrolled exponential growth.


Who is Computacenter's Crown Representative?
Computacenter is looked after by Lan O'Connor, who is also responsible for relationships with IBM and Sopra Steria.
According to her LinkedIn page, Lan is a former Capgemini Group Transformation Director, as well as a Member of the Board of Trinity College Dublin School of Business, and is currently 'responsible for cross-government relationship with strategic suppliers in the Technology and BPO sectors'.


What are the big opportunities?
Partners
One of the biggest opportunity areas is for partners of Computacenter.
New partners will immediately benefit from gaining access to at least 180 public sector buyers that Computacenter already works with, while existing partners are likely to benefit from increased clarity in terms of pipeline and future procurement activity that the enhanced relationship brings.
To see how Tussell's market intelligence platform can easily help you identify potential partners for your organisation, click here to book a demo.


Growth in previously low-touch areas
The second opportunity is growth in new areas of the public sector.
Again, an improved relationship is likely to mean a better understanding of the priorities and agendas of key decision makers - giving valuable insight before a tender is released.
Computacenter has a presence in six of the top 10 IT buyers in Central Government. However, besides the DWP, it does not account for a significant share of the IT market in any of those.
It now has scope to both grow its revenue in departments where it already has a relationship, and expand into those departments where it has no footprint whatsoever.
What are the risks?
Loss of market share within multi-supplier deals
Many of the major deals that Computacenter has are framework agreements or multi-supplier contracts, often covering relatively undifferentiated products and services - like the supply of laptops.
If Computacenter's competitors can improve their sales efforts within those frameworks, they're likely to grab significant market share.
Single source deals, where Computacenter is the only supplier on the contract, provide much better revenue protection and allow them to sell more freely without the constant competition (and associated cost) that comes with multi-supplier deals.
Competition for IT deals
The other key risk is displacement by a competitor on one of their major contracts.
For example, Softcat and Insight Direct are two of the biggest competitors to Computacenter (particularly for IT hardware) and hold almost 1,300 contract awards between them across the public sector.


Welcome to the government's newest Strategic Supplier
All credit to Computacenter - becoming a Strategic Supplier is undoubtedly an achievement for any major government contractor.
While it comes with some significant additional compliance responsibilities, it also allows for greater access to customers, and offers the chance to be part of a strong collective voice with its fellow Strategic Suppliers.
Keep your eyes peeled in the new year for our next update on the government's now 36-strong list of Strategic Suppliers.
Receive free Tussell insights
Get the latest market updates sent straight to your mailbox