This report looks at what impact Covid-19 has had on UK public procurement. Enter your details below to download the full report, or see our COVID-19 tracker for more details.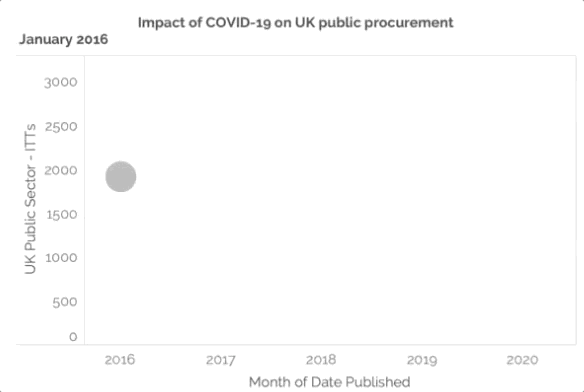 Covid-19 has impacted every aspect of life and business. Public procurement is no exception - last month the public sector published 30% fewer opportunities than in February. In fact, it was the lowest month since Contracts Finder fully came into force in 2016. But some sectors have been hit harder than others.
While this is a challenging time for everyone, public sector suppliers will likely fare better than most. The public sector will be more reliant on its suppliers at this time of need, while meeting that demand will be a critical source of income for thousands of companies at a time of severe disruption.
In uncertain times, data matters more than ever. That is why here at Tussell we have started a new series of monthly reports measuring the impact of the crisis on public procurement. We want to fill the gap for real-time, aggregate, evidence-based reporting on what is really is going on so that buyers and suppliers can make informed decisions and allocate resources accordingly.
Enter your details below to get the short report sent straight to your inbox.