Wates tops Q1 2018 supplier ranking
Wates Group tops Tussell's new ranking of government suppliers in Q1 2018, picking up a total of £828M worth of awards. This was largely driven by a single £800M contract issued by the London Borough of Havering to act as development partner for the Havering Estate regeneration project. The contract is due to run for at least 15 years.
The list was dominated by construction companies, who made up seven of the top 20 suppliers.
Top 10 government suppliers by award value (Q1 2018)

Amey the largest Strategic Supplier in Q1
Amey ranked second overall and topped the list of the government's official 'Strategic Suppliers' – a group of firms deemed to be strategically significant to the wider public sector. The outsourcing firm won a £238M contract from the Scottish government for prisoner escorting services.
Capita, another Strategic Supplier, continued to win the largest number of contracts of any supplier to government. In Q1 2018 it picked up 59 contracts from 39 public sector bodies, an indication of its highly diversified public sector footprint.
£17B of frameworks expire in next 12 months
Looking forward, at least £5B of contract awards are due to expire in the next 12 months – presenting significant opportunities for suppliers if these are replaced with new contracts.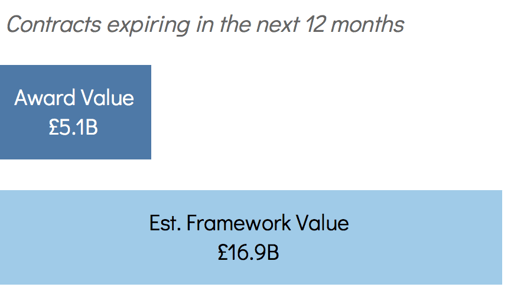 A further 1,000 frameworks (essentially preferred suppliers lists) worth up to £17B are due to expire. Securing a place on future frameworks is crucial for firms looking to win work through 'call-off' awards.
Top 5 frameworks expiring in the next 12 months