Welcome to our new report on the top companies attending the Public Sector Show (PSS) 2018. You'll be able to find Tussell at stall D12 of the PSS this year. Come by and say hi!
Large companies in the Outsourcing, IT and Construction sectors that are attending the PSS 2018 have won 1,774 contracts since January 2015. On average, these companies have enjoyed a win rate of 3.3 contracts per month.
Top Public Sector Show Companies - Number of Contracts (Since Jan 2015)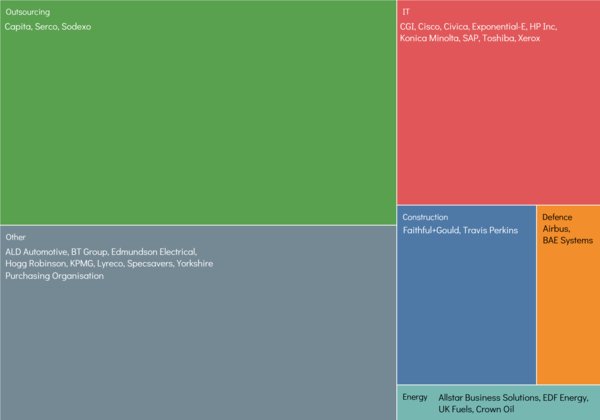 Capita has the most diverse contract profile of any supplier to government, having won awards from 314 buyers since January 2015. KPMG and BT Group have also won contracts from a diverse array of government buyers.
Top Public Sector Show Companies - Customer Footprint (Since Jan 2015)
Central government buyers account for nearly a third (32%) of the total award value (exc. frameworks) issued to the top PSS companies since January 2015. 9 of the top 10 central government buyers have issued contracts to Capita.
Top Public Sector Show Companies - Top 10 Central Government Buyers (Award Value Since Jan 2015)
The top PSS companies have at least 81 awards (exc. frameworks) worth £1.3B due to expire in the next 48 months. Serco has the largest expiring award value in the period - driven by a £283M contract for prisoner escort and custody services, which runs off in August 2018.
Top Public Sector Show Companies - Expiring Awards Over £1M (Next 24 Months)