Tussell's 2019 Year in Review reflects on a busy year in UK public procurement and offers our top tips for selling into the public sector more strategically in 2020. Enter your details below to download the factsheet.
It's been a tumultuous year in UK government contracting. From Interserve's administration to Seaborne Freight and the heated discussions around NHS outsourcing during the election, it seems that public purchasing has rarely been far from the headlines.
Despite all of the controversy and political uncertainty, the public sector market grew substantially last year - in 2019 it awarded £93bn worth of contracts, up 17% on the year prior.
Our Year in Review explores what the public sector bought last year, and from who. Looking at the top buyers, suppliers and contracts, we explore this huge and growing marketplace in detail. The report also examines where opportunities could lie in the year to come, and how companies can position themselves to best take advantage of these.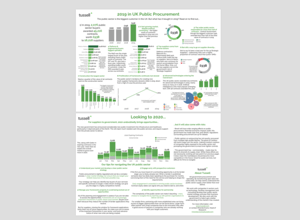 Enter your details below to get the full report sent straight to your inbox.