As part of our regular round-up, in the run up to Christmas we analysed public procurement activity to see what's been going on in the two weeks since the 2nd of December. We found a bumper crop of new open tenders published in the wider public sector, the largest of which was a massive £7bn framework posted by HIghways England, surely a leading indicator of public investment in the UK's transport infrastructure using emerging technologies. The £33bn of published tenders represented a substantial increase on the previous two week window.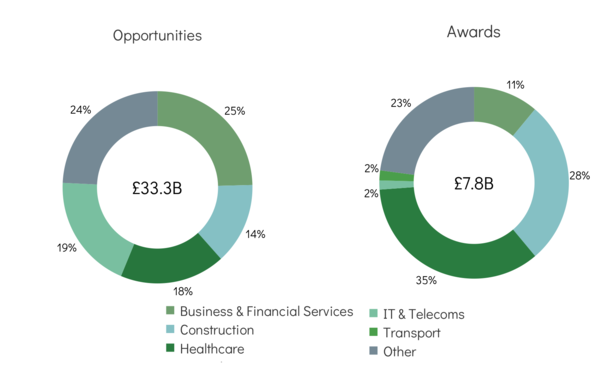 Value of tenders: £33bn

Number of tenders: 1,064


Number of active public sector buyers: 546

Value of contract awards: £8bn
Building your 2019 Pipeline
In this round-up we took the opportunity to look ahead to the coming year. Did you know, for instance, that 6278 contract awards, worth £5.1bn, come to an end in the first half of 2019? Each one is a "trigger event" to start building a relationship with a potential future prospect. This is the smart way to build an evidence-based bid pipeline. See the top three sectors (excluding Construction) below, and remember that you can use Tussell to search open tenders by keyword, sector, region, buyer or any other of 30 actionable data points.

And Finally...
Do you know which companies in your sector were the largest public sector suppliers in 2018? Stay tuned over the next few weeks for our latest special reports. If you want to make sure you don't miss out, sign up below to get these special reports delivered directly to your inbox.
Lastly, we're proud that Tussell research has yet again been cited in The Economist, this time for our work on Interserve. Tussell identified that Interserve has 51 government contracts, worth £2.1bn. Click through for further details.