Since 2017 the UK government has been pursuing a policy of 'contract disaggregation' - seeking to break up the larger, more unwieldy public sector IT contracts into smaller, more manageable pieces of work. Concerns had previously been raised about both the value for money offered by 5-10 year, single vendor arrangements, as well as the constraints that these kinds of contracts placed upon public sector buyers. Larger existing IT contracts therefore stand a good chance of being disaggregated once they expire.
This all means that SMEs and less established IT firms looking to do business with government should be keeping an eye on the bigger IT contracts that are expiring in the near future and building relationships with those buyers. In this piece of Tussell analysis, produced in collaboration with GovNet ahead of June's Public Sector Solutions Expo, we take a closer look at the larger, more valuable IT contracts that are set to come to an end before 2021 and look ahead to the potential opportunities, particularly for SMEs, that may result from disaggregation.
Enter your details at the bottom of this page and download our full report, which includes a rundown of the government departments holding the highest value expiring IT contracts and a full timetable of contracts set to expire before 2021. Alternatively read on for a summary of our report's key findings.
Key Findings of our Report:
Nearly £3bn worth of public sector IT contracts are expiring before the end of 2020, providing plenty of opportunities for tech companies of all sizes.

There are many contracts expiring that could be ripe for disaggregation, with 42 IT contracts worth over £10m coming to an end between now and the end of 2020.

Opportunities for disaggregation abound across Central Government, particularly at the MOD, HMRC and the DWP. Eager suppliers should start engaging these buyers as soon as possible, to be in the best place to win renewals.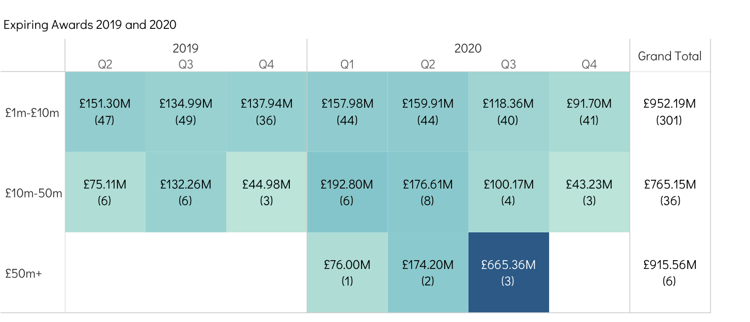 Amongst the 2,773 government IT contracts set to come to an end before the end of 2020, there are 343 that have a total life-time value of over £1m, including 6 contracts worth over £50m. Fujitsu currently hold the largest IT contract ever issued by the MoD, providing connectivity services across their estate. Large, bulky bodies of work like these are exactly the kind of contracts that will be prime candidates for disaggregation once the expiry dates come around - in a competitive market, knowledge of when and where contracts are expiring is therefore key to stealing a march on the competition.
Interested in finding out more? Enter your details below and download our report, or join us at the Public Sector Solutions Expo where Tussell will be sharing our insight in person.