Key Market Stats

670 new opportunities
worth £9.7B were published last week, covering both tenders and pre information notices (PINs).
Transport
was the biggest sector this week accounting for £3.2B of value across PINS and tenders.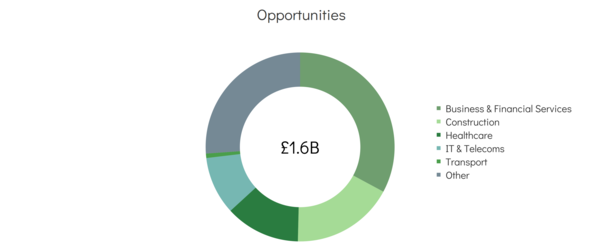 Expiring Awards


At least
£1.6B of awards
are due to expire in the next six months - allowing you to proactively engage with buyers ahead of future tender opportunities.


If you're a Tussell Insight subscriber, click through to see the full data on PINs/Tenders and Expiring Awards.
Buyer Intelligence



Use Tussell to find opportunities with your top buyers. Last week, 405 different public sector buyers published opportunities. SE Shared Services was the most active buyer, publishing 13 tenders

.
volume of contract opportunities
Supplier Intelligence



Did you know that you can look up specific competitors in our database? Here's what 5 of the top suppliers to government have been up to this week.

SME Market Share