In January, the head of the National Cyber Security Centre has said that a major cyber attack on the United Kingdom is a matter of 'when, not if'. The Joint Committee on the National Security Strategy yesterday published a report saying that the cyber threat to UK public services - including energy, health services, transport and water - is growing and evolving. With that in mind, we've analysed trends in cyber security contracting by the UK public sector to take a look who is spending money on what. Since 2015, 1,106 contracts have been awarded worth £785m for cyber security-related services.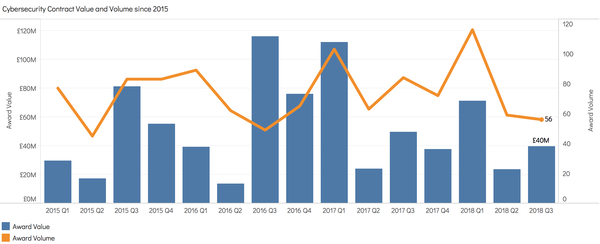 The number of distinct public sector buyers purchasing cyber security services has increased each year since 2015, hitting 117 in the first nine months of 2018. Whilst this shows more and more engagement with the topic among public sector buyers, it does not necessarily mean that the market is becoming more efficient.



Growing adoption is also reflected in the fact that it's not merely Central Government bodies that are awarding cyber security contracts - in fact, since 2015 Local Government bodies have awarded contracts worth £244m, accounting for nearly 30% of the total value awarded in the period. NHS buyers too are highly active in this area, with nearly £80m awarded since 2015 - perhaps not surprisingly given the impact on the NHS of the WannaCry virus in May 2017.



Overall, although public sector buyers are engaging with matters of Cyber Security, it is clear from the Joint Committee's report that more will need to be done in the coming years to prevent major threats to our public services.
Sign up below to receive the full report straight to your inbox, including a ranking of the top individual buyers and suppliers of cyber security services in the public sector, a list of the top contracts awarded, and a breakdown of future contract expiries by year for those market participants that want to anticipate future procurement opportunities instead of merely responding to them.